Neil here! I remember eating corn dogs like crazy in my high school days of 2 a-day soccer practices coupled with hours in front of computer games every night. They were so good. Greasy meat, wrapped in bread, fried on a stick. It's the perfect meal right? As Anthony Bourdain once said, "They need to put more meat on sticks." And I agree!
However as I get older and live a more sedentary lifestyle (aside from the gym and camping/hiking), I can't exactly afford to go buy a 12-pack of frozen corn dogs to enjoy with a night of PS3 or computer gaming. Nor do I relish the thought of packaged frozen food anymore. But as we proved last night, you CAN make corn dogs that are healthy (read: healthier) and still taste great!
With the use of whole wheat flour, turkey franks, and baking instead of frying, these corn dogs are a perfect alternative if you're looking to avoid all the grease and frying mess. Vegetarian? Easy! Just grab your favorite soy dog substitute!
So lets get started. This recipe is a modified version of one from Rachael Ray, that we adjusted slightly with the substitution of whole-wheat flour.
Ingredients:
1 cup reduced-fat milk 
1 package active dry yeast 
2 tablespoons extra-virgin olive oil, plus more for greasing 
2 tablespoons packed light brown sugar 
1 cup fine yellow cornmeal 
1 1/2 cups all-purpose (whole wheat) flour, plus more for dusting and kneading 
1 teaspoon salt 
1/4 teaspoon baking soda 
1/4 teaspoon cayenne pepper or paprika 
1 pkg reduced-fat hot dogs
1 large egg, beaten 
1 tablespoon black sesame seeds (optional)
Directions: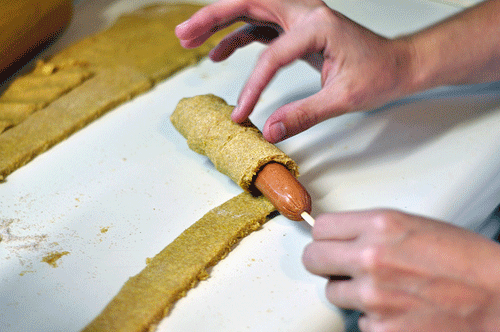 1. Warm milk to 110 degrees in a small sauce pan and add yeast, stirring gently.  Allow it to sit for two minutes to soften. While this is going, Add olive oil, brown sugar, cornmeal into a bowl or mixer. Add the milk to this mix.

2. Stir in the flour, salt, baking soda, and cayenne pepper and mix into a sticky dough. You may need to add more flour if the mix is too sticky. We found that the recipe was a little off and needed a bit more flour.

3. Turn out dough onto a floured surface and kneed it out for a couple minutes. Shape it into a ball and place it in a lightly oiled container and cover it with a towel (We always put ours in the microwave with a towel over it so it stays at a good temperature). Let dough sit for 1 hour. While this is rising, prep your hot dogs by inserting sticks or skewers about 1-2 inches deep and set aside.

4. Preheat oven to 450 degrees.

5. Turn out dough onto a lightly floured surface and roll it out thin. We rolled ours to about 1/4 inch or less. The more dough you will have around your dogs, the thicker they will obviously be, so its up to you!

6. Cut the dough into 1-inch strips that are about 10-12 inches long. Begin rolling the dough around the dogs, holding the dogs at an angle so that you are not overlapping the dough more than 1/4-inch. Pinch together ends or any open areas to seal.

7. Place on greased/sprayed baking sheet and brush with beaten egg. Add sesame seeds if desired.

8. Bake in oven for 15 minutes and then enjoy with your favorite dipping sauces!
The directions may seem a little bit long, but don't let that fool you. These were as easy as making and waiting on dough and quickly wrapping the dogs and placing them in the oven. While they don't have the super-crunch of a fried corn dog, the texture is so incredibly similar it's uncanny. The dough net us nine corn dogs, so it's easily a two-night meal, great for families, or a great dish for a party. We definitely plan on making at our next gaming party!