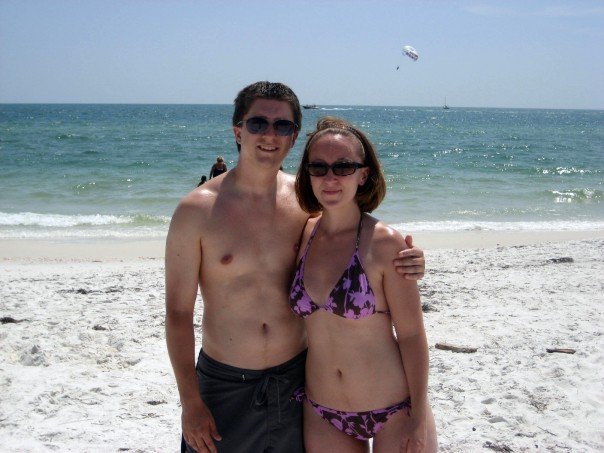 Neil and I on our first vacation together in Florida (2007)
I have a real hard time giving up the day Neil and I became a couple for the day we got married as our anniversary. The day we got together was a proclamation to everyone what we knew from day one, which just happens to be today November 11, 3 years ago.
Neil and my story isn't an overly romantic one, although for me it was nearly 9 months of hoping and praying that something would finally work out for me because it had pretty much been a shit year. Sorry I guess I probably shouldn't swear in the telling of our story. Neil and I met in January of 2006 at a car meet put together by a friend. I had just been dumped, pretty harshly I might add, and found out that the person I had been with not only left me terribly, but had left me for someone else several months before we even broke up. It was the first relationship I'd ever really made myself vulnerable to and in the first months after I kind of tailspinned. I drove really fast, I was living, not so much recklessly but definitely more on the edge than I ever had. I just couldn't understand why someone would leave me. For who? When the friend invited me to the car meet, I knew it was my chance to find out.
So that Saturday I drove to Springfield (Neil and I lived 3 hours apart for the first year of our relationship) and met with the group. They were at Buffalo Wild Wings before the cruise and I plopped down next to a guy who was consumed with a plate of wings (if only I'd known)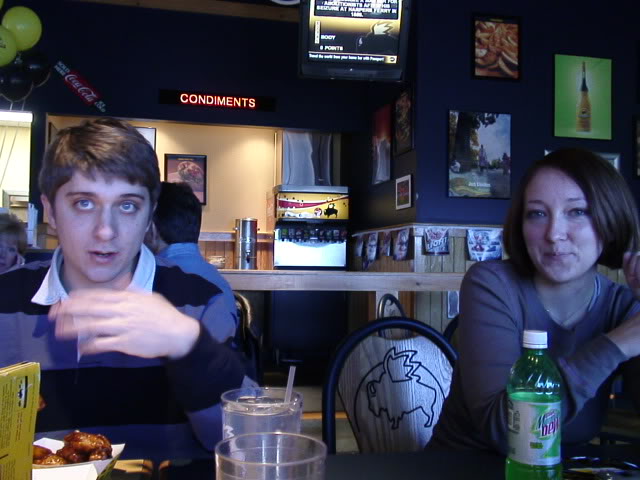 Our first official photo, what a keeper
I remembered that I met him briefly the previous fall, when he bought me a soda. I had passed him off as a rich kid and thought no more of him. But as we sat there and talked, he was quiet, but when he said something, it was something witty or snarky, stuff that could have just as easily come from my Dad's mouth. We went on a cruise, and agreed that we were going to meet at Neil's house later to drink and just generally have a good time.
By now my interest was peaked. I know, I'm fast to fall, and it was fast even for me. He was just so different from anyone I'd met in Missouri. The majority of the men you meet in Missouri aren't quiet, shy and without religious devotion to sports, chew, or being otherwise disgusting and stupid.
I showed up to his house with friends and quickly found out that he had a girlfriend. It was a blow, not only because of that but because it was her. What are you supposed to do in that moment? Proclaim to the world  your suspicions? Break up a relationship? Revenge? Cry? I did cry, and I went home. I went to work on Monday and an instant message popped up. It was him! So I did the next best thing,
I became friends with him.
And it was awesome. Long boring days at a hapless job became days I looked forward to more than anything. We talked about everything under the sun and it never ceased. It was a better month than I'd had in years. But his girlfriend didn't like the idea of female friends and as quickly as it came, it went. I tried to  put him out of my mind and move on with my year. I dated a lot, met a lot of people, and generally 2006 was an amazing year unlike any I've had or had since.
On an afternoon in August, he instant messaged and we talked briefly and every day it became a little longer and a little longer. We sent a few emails back and forth with pictures of what was going on in our lives and specifically my amazing weight loss via forgetting my lunch every day.
At the end of September, his relationship ended. I tried to be the as supportive as a friend could (although secretly I admit to jumping up and down and having a smile measurable in miles). I even encouraged him to work it out and patch things up if it would make him happy. He didn't.
Two weeks later he came to visit. It was an amazing weekend that ended in our first kiss that I didn't have to initiate (I'm girly sometimes and it was  a big deal, so I have to point it out now). We resolved to take things slowly and get to know each other better before taking things to the next level. In retrospect I'm still glad we did that.
On November 11, we planned to go to St. Louis for a date. Nothing official was planned, just a special day in St. Louis. We went to the Art Museum, the Galleria, Whole Foods (my Disneyland) and ended the evening with a dinner at P.F. Changs. It was at dinner that we decided to make our relationship official. It was the best feeling. It still gets me when I think about it.
We knew it was the relationship. Immediately after, Neil put his house on the market and started looking for jobs in Columbia. I'm spiritual, but I'm not the type to say "it was meant to be" or prophesize that I have affixed guardian angels, but "He" was definitely looking out for us. Neil's house was on the market before the market took the major dive and it sold to the first person who looked at it. After a year of commuting back and forth every weekend, he got a job here in Columbia and moved 3 weeks later.
When I think of November 11, I marvel at the richness of our first year, particularly the first few months. Our first Christmas in Minnesota, our first new year with the death of a bottle of vodka a la Neil. I think of the first snow storm and Neil renting a car and driving through over a foot of snow three hours so we wouldn't miss a weekend. In three years we've been through and done so much that its impossible for me not to regard November 11 as our anniversary instead of July 25.
This year we will celebrate the same way we have the past two years. We will go to St. Louis and have a fun day that culminates with a dinner at P.F. Changs. My little brother will be turning 21 that day (it will technically be the 14th since we are working today on our anniversary) and he and his girlfriend Mallory will be coming with us. I hope if anything that we can give them some of our good karma that has been such a blessing and wind at our backs for three years.
Edited to Add: I should mention that to this day we are constantly in communication on and off  all day. You could argue that its unhealthy, but its been that way from day one and it's not as if we're talking to another person, but more less having an inner monologue.