If you're not from the Midwest, you might not be fully aware of how much Kansas just plain sucks. Even people from Kansas think it sucks and apologize profusely when they hear we've driven through. Once you leave Kansas City, there is NOTHING. For hours. It's deceptively long too, a black hole of time. You think you're making distance, only to realize there's still so much Kansas left.
So as you can imagine, Colorado looks exceptionally good once you get there. We were so excited to secure the same campsite in RMNP that we had on our honeymoon. It's in a somewhat secluded area in the corner of the campground and there is always plenty peace and quiet.
We immediately set up the tent and unpacked the gear and snacks.
A little salsa from home. I'd never had it before (I'm probably the only person in this state who hasn't been to Mexican Villa), but it seriously tastes like sweet and sour sauce mixed with enchilada sauce.
Some India Pale Ale from Upslope in Boulder.
The big change to the campsite since our last visit was the addition of a Bear Box. Each campsite had one — and boy was it awesome. It took all the pressure off having to keep stuff in the Jeep, and worry if it's getting too hot wherever we left it during the day.
Vacation week is cheat week. I ate everything in sight. I really couldn't remember the last time I had Doritos — so good! I also think I ate my weight in s'mores.
Patrick arrived from Denver, and brought us some Porter from Estes Park Brewery. We changed into our pants and long sleeves and sipped it as the day cooled off and sun set. First campfire of the trip:
Patrick made us the fanciest camp meal that I think either of us had ever experienced — well since my my days of camping with my parents at the KOA with an electric skillet. We dined on jerk chicken and prawns cooked in cast-iron. It was so good.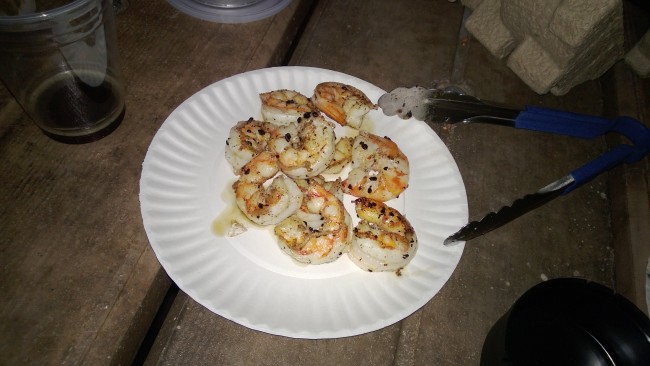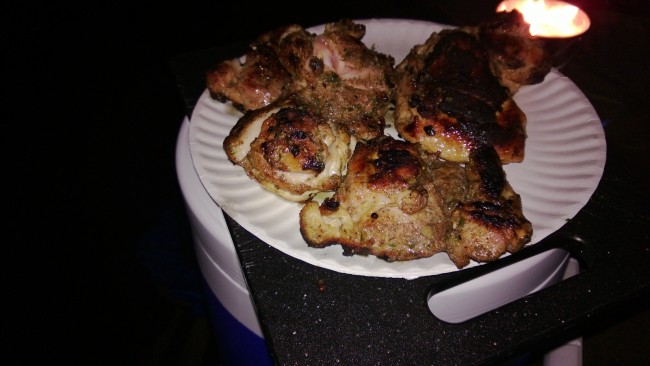 A long drive and a good meal sent us to bed quite early.
Tuesday was absolutely gorgeous — perfect for Neil's birthday and our first day of hiking. That's right, he turned 32 while we were on vacation! We awoke with the sun and made a breakfast of egg and bacon burritos.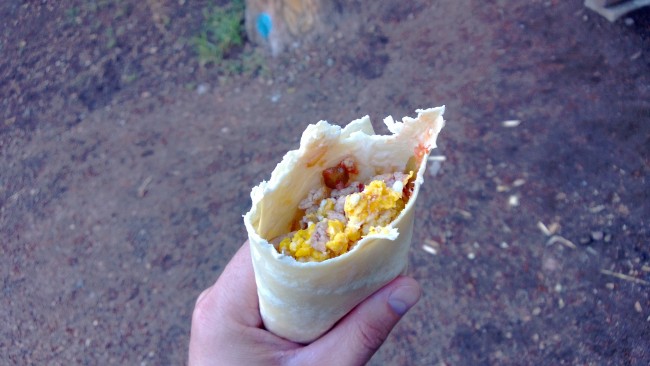 Hike:
Yellow trail on map:
Alberta Falls
Mills Lake
Jewel Lake
Google Map:

View RMNP 2013 in a larger map
We wanted to start out a little easy the first day, get adjusted to the altitude. I tend to be somewhat sensitive to it and even though I'm in better shape than I was 4 years ago, I just can't seem to escape feeling a little off for about 24 hours.
Some pictures from the hike:
A great hike for our first day. We covered 6-ish miles (my Fitbit crossed over the 15k steps mark, a first for me since I work at home and CrossFit).
Patrick had to head back to Denver, so Neil and I went into Estes to look around and pick up a few supplies (mainly beer and fruit). Neil's birthday meal was pretty simple. Locally made (to Missouri) bratwurst and grillin' beans. We were starving after the hike.
We ended the night cuddled in front of the fire and massaging each other's feet. Thanks again to Patrick for the amazing meal and for being our gazelle-like tour guide. A girl couldn't ask for a better friend. More Colorado fun still to come!