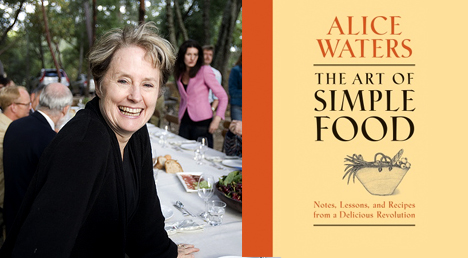 I have an unwritten rule about cookbooks. I don't buy them if there are no pictures. It may seem childish, but I typically like to see what I'm cooking, mostly to know if I myself am failing the recipe. Few chefs get a pass at this rule. Alice Waters is one of them. If you're a foodie, you definitely know who she is, but if you're not, here's a little praise. She is who I would consider to be the founder of California cuisine and one of the birthers of the public health food movement. She not only promotes healthy food, but local and organic when at all possible, sourcing menus for her legendary restaurant Chez Panisse locally and through small, independent producers. She's is legendary, and definitely one of my top five favorite chefs of all time.
The Art of Simple Food is a bible-like tome of healthy, organic eating from start to finish. The recipes aren't groundbreaking, but the simplicity and approach is reminiscent of the way your grandma might have cooked, without a recipe and from the knowledge of how food behaves. She not only details how to grow your own food, but how to harvest, prepare and serve it. The fresh ingredients are main stage. None of the recipes are overly detailed or complicated, meaning she doesn't just throw shit in there for good reason (excuse my language, but I didn't feel like mincing words). I particularly loved the how-to sections on staples such as homemade broth and soaking beans and legumes.
Waters mantra is to eat locally and sustainably, eat seasonally, and shop at farmers markets where possible. The goal is that if people form the right relationship or rekindle a love with what is around them, that they'll respect and take care of it. Not only that, but they'll be more likely to take care of themselves. I highly recommend this book as a staple for any kitchen where this message is aspiration or already a way of life.
I hope to share some of my gleaned inspiration from this book next week!
{image and another awesome review via Treehugger}