Hey guys! What a whirlwind 3-day weekend Neil and I just had in Chicago! I'm excited to tell you all about it and let you in on why I was there. A few months ago I was contacted by Verizon and asked to be a part of the Verizon Health and Fitness Voices blogger program. I was shocked. Me!? I follow Anne from FANNEtastic Food and Meghann from Meals and Miles, both of whom have worked with Verizon. So what did they want with me!? I mean, we are a little device-obsessed, but definitely not in any way big-time bloggers. Thankfully they assured me many times that it was in fact not a mistake, so now I feel okay announcing it to the world.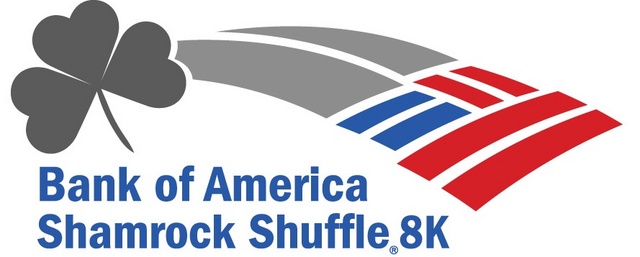 They scheduled the big kick-off event in Chicago this past weekend, which also happened to be the same weekend as the annual Shamrock Shuffle, the largest 8k race in the world. Over 44,000 people participate each year, which makes it the biggest race both Neil and I have ever been in! Obviously running has taken a complete back seat to our participation in the CrossFit Open, but we decided to run purely for fun and to just experience the thrill of such a large event.
We left our house early Saturday morning, grabbed coffee and blitzed to Chicago as fast as our tiny rented Toyota Corolla could take us. It was insanely windy on the drive!
By the time we made it downtown to Navy Pier, we had just an hour to pick up our packets and explore the expo. There were tons of great vendors and dozens of area races and running events to explore. I am so jealous of the people who live here. They have so many options, there was literally something for everyone. Spartan Race? Mud Run? Half-Marathon? Color Run? Zombie Run? Full-Marathon?Holiday run? Check!
We then made our way to the hotel. Verizon booked us at the very cool Hard Rock Hotel on Michigan Avenue. We loved all the music memorabilia and funky artwork throughout the hotel. Bowie in the Bathroom anyone? Okay, he made mornings a little awkward.
We had high hopes to explore the city and eat at one of the places we'd researched before arriving, but we were exhausted, so we headed across the street to a Giordanos for pizza. The wait wasn't terrible and the pizza filled us right up. It's been forever since I had deep dish. It was so good, but boy did it give me the worst wheat belly.
Afterward we settled into our room with some movies and hit the sack early to rest for the race.
We woke up to a warm-ish and sunny day. Perfect for the Shamrock Shuffle. Everyone was super bundled up, but Neil and I opted for shorts and t-shirts. While it was a little cold at first, we warmed right up when we started running. We didn't take our phones (we run sans devices for the most part), but it was an awesome event. Super well-organized, a gorgeous winding and mostly flat route through downtown. It really made me realize how poorly organized some of our local races are. I love how they spaced us out so we could get a nice stride and plenty of personal space, and there were staffed stations throughout and snacks at the end. We couldn't have asked for better, and 5 miles is a great distance.
Unfortunately, I think my work in the gym earlier in the week gave me my first-ever case of shin splints. I've never had them before, but holy crap, they are terrible. I ended up walking almost all of mile 2, and hobbling mile 3 before they subsided a bit. Such a bummer because I felt amazing that day and think I could have easily gotten the 48-50 minute time I was hoping for. Neil of course did fantastic, finishing in 45 minutes.
I found Neil in the crowd. He won a chair! We cashed in our drink tickets for a couple of beers (they taste amazing after races don't they?) and sat by the Buckingham Fountain with our snacks. We then slowly made our way back to the hotel. There were so many people!
After a shower and some much-needed R&R, I headed down to the lobby to meet up with the other Verizon Voices Bloggers for dinner. We walked down the street to the Park Grill and enjoyed a fabulous four-course meal while we got to know each other. They gave us a plethora of options to choose from, but I went with the Pear Salad, Wild Mushroom Flatbread, Skuna Bay Seared Salmon and Pineapple Upside Down Cake for dessert — all of it completely fabulous.
Hanging out with the girls made me realize just how out of the blogging mindset I've been lately (really though, the past two years since I went to BlogHer). Everyone had business cards, media kits and posting schedules, and well, I had none of it. Nonetheless, I cracked a few jokes and tried to scrub my language clean and everyone seemed to think I was okay. I really have to get my act together though, I felt so dumb.
After dinner, we all kind of went our separate ways. A few opted to go out, but many of us were just plain exhausted. Unfortunately I had a major project to put dents in for work, so I retired upstairs for movies, some Neil time and working. I also snuck in some Google searches to try to guess what devices we'd be revealed with the next morning.
Next up: Working with Verizon and what can expect to see here.
Disclosure: I am participating in the Verizon Health and Fitness Voices program and Verizon paid for my accommodations, race entry and meal.