Over the weekend, our CrossFit Box undertook the brutal "Murph" workout. Just look at it! A 1 mile run, followed by 100 pull ups, 200 push ups, and 300 air squats? Insanity. And to top it off, just when your legs feel like rubber from the 300 air squats, you have to finish the workout with another 1 mile run. Bonkers.
"Murph"
For time:
1 mile Run
100 Pull-ups
200 Push-ups
300 Squats
1 mile Run
A little about the man behind the workout:
In memory of Navy Lieutenant Michael Murphy, 29, of Patchogue, N.Y., who was killed in Afghanistan June 28th, 2005.

This workout was one of Mike's favorites and he'd named it "Body Armor". From here on it will be referred to as "Murph" in honor of the focused warrior and great American who wanted nothing more in life than to serve this great country and the beautiful people who make it what it is.

Partition the pull-ups, push-ups, and squats as needed. Start and finish with a mile run. If you've got a twenty pound vest or body armor, wear it.
I started in good spirits, ready to tackle this WOD. I made a goal with myself to finish in under 1 hour. I knew to do this I would not only have to maintain all the elements at a decent clip, but also pace myself to avoid burning out too quickly and succumbing to fatigue. Did I mention that it was also over 90 degrees outside? Bleh!
A few pictures:
Before: In good spirits
And we are off!
Slogging through the pull ups, push ups, and dips. My strategy was to break them up into 20 sets of 5-10-15 (pull up, push up, squat). This method proved to be pretty efficient, however after 10-15 rounds you really start to feel the fatigue in the push ups and air squats (for me anyhow, results may vary).
Thankfully, hard work paid off and I  finished in 53:10! It felt so good to not only achieve the time, but have that workout under my belt. I was definitely tired afterward…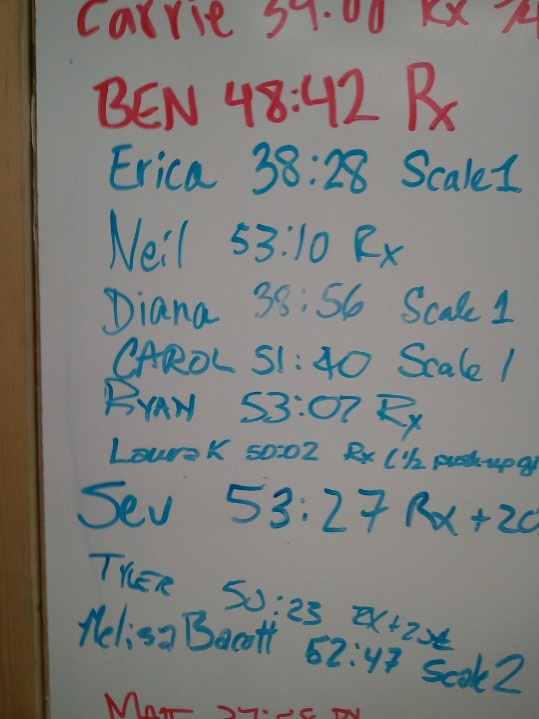 … as was everyone else. Definitely one of the harder workouts we've done as a box.
A sweaty "after" group shot for the wall!
What you can't see in that photo are some of the wicked blisters that formed during the pull-ups, ouch!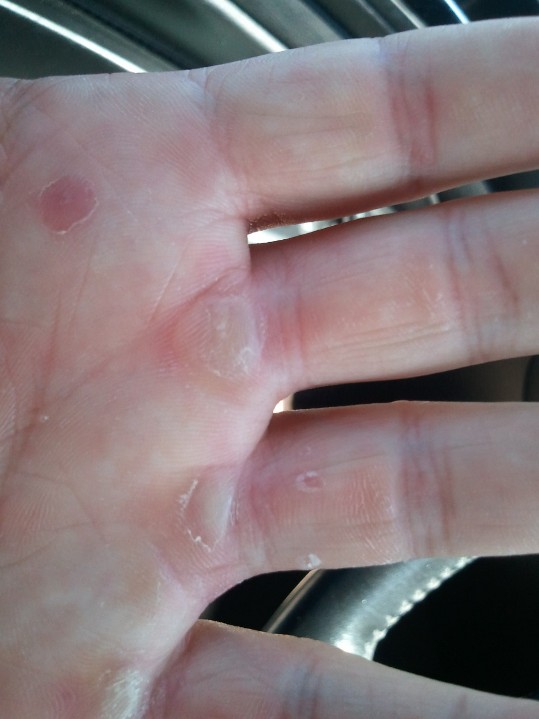 The Feast!
We celebrated Murph and Memorial Day with a BBQ. Food and beer tastes amazing after a tough workout, and I can't think of anyone I'd rather share it with than my friends at CrossFit United! An added bonus was that everyone brought Paleo goodies to share!
It's now been a few days, but I'm still pretty sore. However, Murph showed me how much progress I've made since starting CrossFit back in September. Back then, I couldn't even do a single unassisted pull-up, now I can do 100 (unstrung of course). Its truly a testament to what a good program like CrossFit, paired with a clean diet, can do for your athleticism.
So, definitely no slouch of a weekend here at the Kohler house. Jessica smashing her half-marathon in the brutal heat, and me getting Murph done in well under 1 hour!