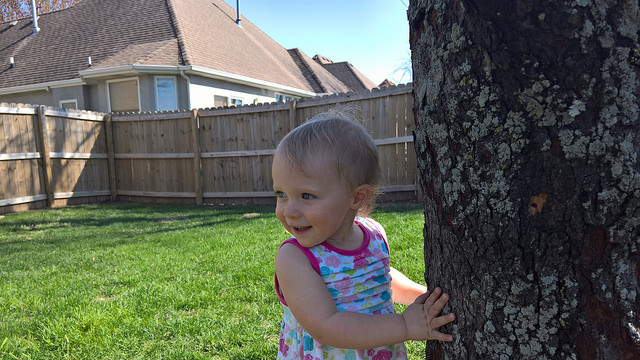 Here are some really belated photos from our Easter weekend in Springfield, Missouri. We just went down for a quick overnight from Saturday to Sunday but managed to squeeze in quite a bit!
As we're not really religious, Easter is always kind of a low-key holiday for us. We are still feeling out holidays with KK, and we really prioritized just spending time with family and being outside over church or a lot of structured activities.
For the first part of Saturday, we hit some easy trails at the Springfield Conservation Nature Center with KK in the stroller. She was due for a nap after not having slept for the 2-hour car ride down, so we were really hoping she'd snooze while we walked. Fortunately, she conked out after about 30 minutes, and we enjoyed about an hour of walking and talking quietly in the peace of the forest.
Later that evening, we enjoyed an awesome Easter meal with bestie Rachel, Neil's brother Ben, and his parents. It was an amazing spread that included stuffed pork loin, tumeric cauliflower, brats, my homemade kraut, baked beans and risotto and asian crunch salad. Dessert was Rachel's amazing trifle. We were stuffed. I literally thought Kaitlan was going to explode…
We played with toys and KK was OBSESSED with Ben's deck stairs and the rocks and gravel in the yard.
We must have held her hand as she walked up and down those stairs nearly 100 times…
She was hard set on walking up and down like a "big kid." She is such what I would call a "relentless learner." If she wants to master something, she will practice and engage whatever it is over and over until she feels satisfied with it. It is crazy to watch her little wheels turn, and the excitement on her face when something "clicks" or she feels she's had an AHA moment. As you can see, she typically claps when she's hit one of those moments, and always looks around for confirmation and affirmation of her progress.
All in all, a great weekend! How was your Easter?