As you know, I was recently chosen to be a Women's Health Action Hero for 2014. Part of that opportunity encompasses raising money and awareness for Run 10 Feed 10, and the other is a more traditional ambassadorship program. One of the first opportunities we've been given as ambassadors is to review workout gear from the new Heidi Klum for New Balance Performance Apparel and Footwear line, also known as #HKNB.
I was excited for the opportunity because I absolutely live in my New Balance shoes and workout gear, and the quality is unsurpassed. Seriously, my wear and tear on workout clothes is serious! I received an outfit and pair of shoes to review:
Top: HKNB Crop Tee (Style# WFT4161KBK :: Black)
Bottom: HKNB Woven Pant (Style #WEP4156KBK :: Black)
Shoes: HKNB 890V4 (Style# W890HBK4 :: Black and White Mint)
The #HKNB line is pretty darn cute, with a simple, uncomplicated design aesthetic and a lots of fun colors and patterns. I am always drawn to color first when choosing workout clothes, and that's probably why most of my workout clothes don't come anywhere close to matching. Additionally, I love blue, green and especially mint (perfect blend of the two right?), and it's rare to find it in workout gear outside of Lululemon, which is typically pricier than other brands (HKNB and Lulu are somewhat similar in average price).
While I wasn't fortunate to get a piece with all the fun patterns and colors (all of my pieces are black), I'm definitely envious of some of the tops and bottoms the other ambassadors received (examples here, here and here). The other bummer was that — although cute, my pieces definitely were made for someone quite a bit taller than me, especially if worn together. I let several of my taller training partners try the outfit on, and they were definitely luckier to have been born taller, and the pieces looked great.
I opted to adjust the composition of how I wore the pieces in order to give you guys the best picture of what they could look like, and how I would wear them.
First, here's the top. Instead of the much looser-fitting HKNB Woven Pant, I matched it with a pair of my Nike crops and the 890 V4's. I also wore a colorful sports bra, which I just got from Reebok underneath. If you wear it off the shoulder a bit, it offsets the boxier shape it might emphasize in someone with some massive CrossFit shoulders and traps (a little humor for my CF girls out there). I could definitely see wearing it for some strength work as the weather gets warmer.
Here are the bottoms, paired with my awesome Lift Up Luke fundraiser tank from last Fall. These pants are super comfortable, and although I probably wouldn't WOD in them (I prefer crops for lifting as they tend to move less and wick sweat more), they are perfect for stretching and mobility work, which let's face it, I need to be doing a lot more of these days. I will also note that these are definitely made for someone taller, and I had to roll the waist several times to find a length that kind of worked with my short stature.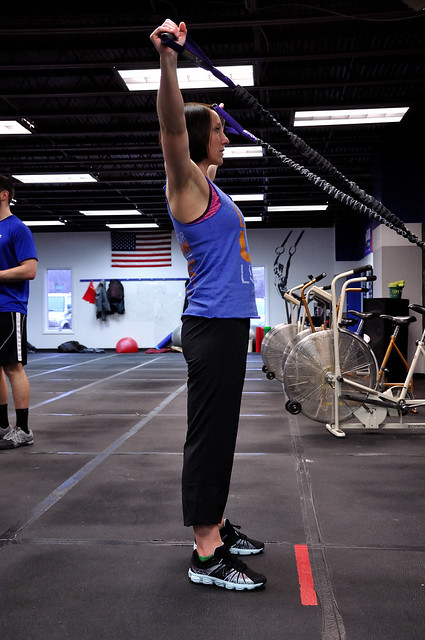 And the shoes! I haven't bought or sought out a pair of traditional running shoes since my half-marathon more than a year ago. I live in minimalist shoes now and was so excited to find that these are super light and not clunky and spongy. They had a perfect fit almost immediately like my NB Minimus 10's and Minimus Zero V2's, which I appreciate because ain't nobody got time to break a pair of shoes in!
The little color accents on these shoes are so fun! I think even some of the guys were jealous of them.
New Balance is hands down one of my favorite brands and it was exciting to be part of this program! It's tough to find workout gear when the wear and tear I impart can only be likened to a bulldozer. New Balance gear continues to look great with non-stop weekly washing and I'm excited to add Heidi Klum's style to my weekly rotation.
Disclosure: I am participating in the Women's Health Action Hero program and have been provided with a welcome kit and the opportunity to participate in an ambassadorship program for the period of a year in exchange for my thoughts, awareness through blog posts and opinions about any products or opportunities I partake in.