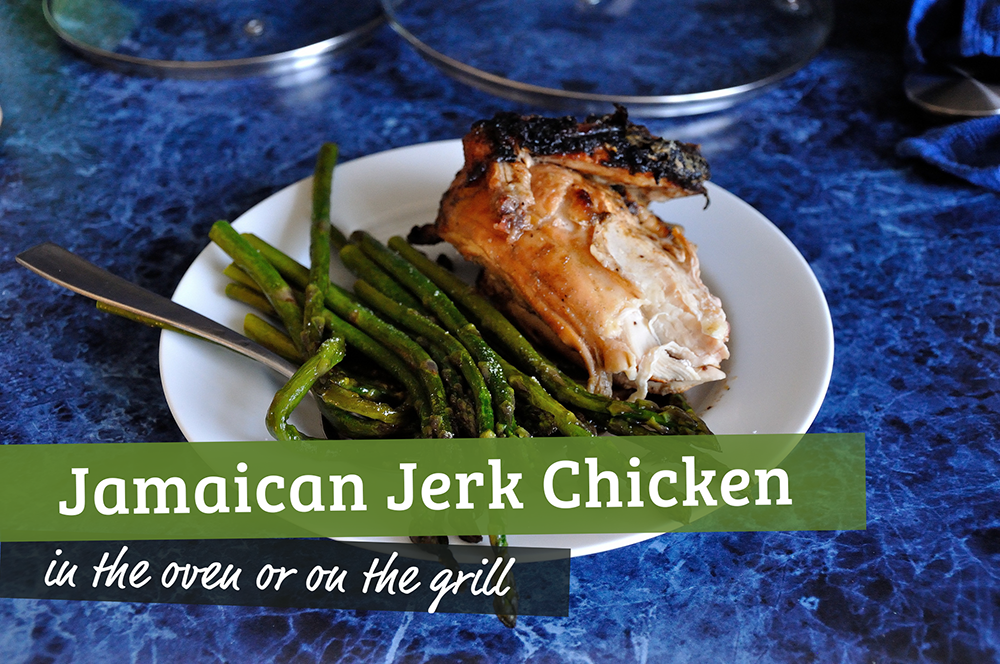 Changing it up this week and starting out with a recipe for Jamaican Jerk Chicken that we made over the weekend. My best friend Patrick sent us the recipe mid-week last week and when Friday rolled around we collected all the ingredients and prepared it for our first meal of this week. As I mentioned in last week's weekly menu post, the weather has been awesome, so we've been grilling a bunch of meat every Sunday for the week's meals. A welcome change of pace, and super easy.
A gorgeous day creates effortless food photos. Well okay, I'm not a legit food blogger, but the light is nice right? Here are a few pics of the process:
Here is our "spring chicken" that Neil picked up. He simply quartered it, which is really easy to do.
The colorful sauce right before blending. Ironic given how muted the color of the sauce ended up. Don't bother chopping anything too finely, the blender will take care of it.
Ready to marinade in the refrigerator for 24 hours. Be sure to leave yourself some sauce in another container for more brushing, and to top. The color of the finished sauce does the flavor no justice.

Jamaican Jerk Chicken
Recipe type:
Meat/Barbecue
An awesome chicken recipe that goes great on the grill!
Ingredients
One 3½ lb chicken (3lb of chicken breasts may be used if preferred)
6 sliced scotch bonnet peppers (jalapenos may be used if scotch bonnet peppers are unavailable)
2 tablespoons thyme
2 tablespoons ground allspice
8 Cloves garlic, finely chopped
3 medium onions, finely chopped
2 tablespoons sugar
2 tablespoons salt
2 teaspoons. ground black pepper
1-2 teaspoons of the following (to taste)
1-2 teaspoons ground cinnamon
1-2 teaspoons nutmeg
1-2 teaspoons ginger
½ cup olive oil
½ cup soy sauce
Juice of one lime
1 cup orange juice
1 cup white vinegar
Instructions
Chop the onions, garlic and peppers. These do not need to be chopped too fine as they will be liquefied by the blender.
Blend all of the ingredients (excluding the chicken) in a blender to make the jerk sauce.
Quarter the chicken in 4 pieces.
Rub the sauce in to the meat, saving some for basting and dipping later.
Leave the chicken in the fridge to marinade overnight (24 hours).
Bake in the oven for 30 minutes, turn the meat then bake for a further 30 minutes. To grill, grill the meat slowly until cooked, turning regularly. Baste with some of the remaining marinade whilst cooking. For best results, cook over a charcoal barbecue (ideally over a rack of pimento wood).
Chop each quarter chicken portion in to 5 or 6 smaller pieces to serve. Goes great with veggies, rice, salad, etc.
While this may seem like a lot of ingredients, most of them are things you probably have around all the time. The smell is absolutely heaven, and it's the perfect barbecue recipe to roll out this spring!