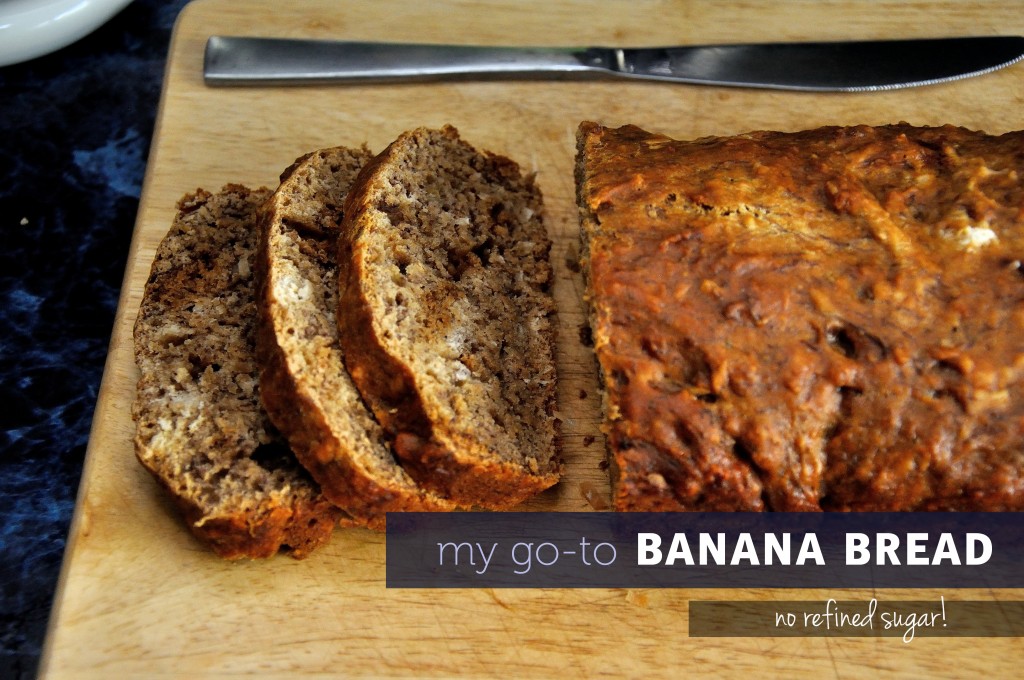 Neil is not big on sweets, but he loves when I bake him muffins or quick breads for his weekday breakfasts. His standout favorite is definitely banana bread, and with all the bananas I'm not eating anymore (trying to avoid excess sugar), the ones deemed "too brown" have now filled the top drawer in the freezer and have created a constant supply for roasting for banana bread.
Even though banana bread is a pretty no-brainer recipe, I'd thought I'd share how I make it, as I know others might be looking for reliable healthier recipes that don't contain the nearly cup of sugar that most banana bread recipes seem to. I never understood that. Bananas are sweet enough on their own, especially if they are brown and roasted, why do you need that much sugar? Anyhow, here we go!
My Go-to Banana Bread (no refined sugar)
Ingredients
3 very ripe bananas
¼ cup honey
¼ cup maple syrup
3 tablespoons coconut oil, plus a little more for oiling the loaf pan
1 teaspoon pure vanilla extract
1 ½ cups whole-wheat pastry flour
1 ½ teaspoons baking soda
¼ teaspoon salt
¾ cup chopped walnuts, pecans, chocolate chips or shredded coconut (all optional)
Instructions
Heat the oven to 350° F. Lightly oil a loaf pan.
Place bananas several inches apart on a non-stick baking sheet. Bake at 350° F for 20 minutes. Remove skins and place in a mixer bowl. Mix with honey, maple syrup, coconut oil and vanilla extract.
Stir together flour, baking soda and salt. At this time add any additional optional ingredients at this time.
Combine both mixtures and pour evenly into an oiled loaf pan. Bake for 50 minutes, or until center is set.
I personally like adding chocolate chips to mine, but Neil prefers pecans and walnuts in his. As you can see, I used toasted coconut in this batch, and absolutely love the subtle flavor it gives. Enjoy!