Is bone broth a winter staple for you?
Use the promo code "KOHLER15", and receive 15% off your first order with Kettle and Fire!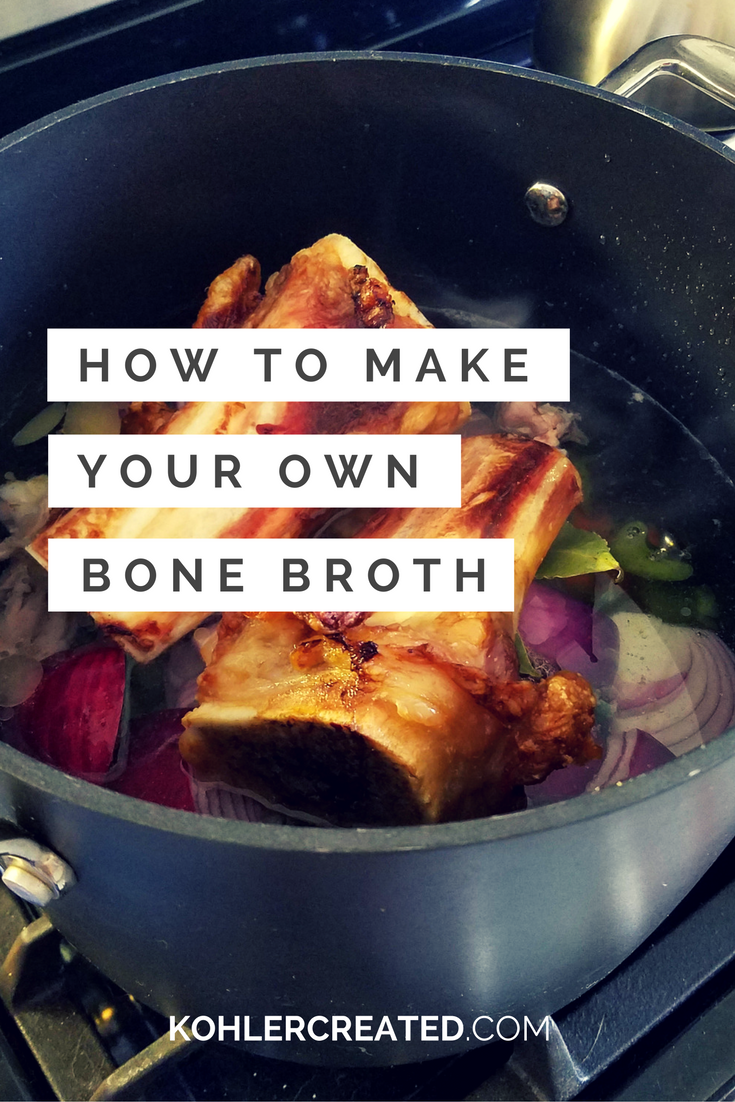 You might not believe it, but Neil and I used to live on canned soup. I shudder to think about it now, but with a busy life and schedule, that was often our go-to meal, and especially so if we thought we were coming down with a bug. I used to literally slurp chicken soup, from a can (I know don't judge me!) when I was sick because I definitely didn't feel comfortable making my own. But when I came down with a really bad cold a few years ago and happened to glance at the ingredients on the back of the soup can, I decided that I had to try something else.
If you haven't heard of bone broth, it's been gaining a lot of popularity the past few years, especially in the fitness community. If you've made your own soup broth before, the whole idea is quite similar. Grab a pot, throw in some animal bones, cover it with water, and simmer for a long time. By doing so, you extract all the nutrients from the bones into a digestible form called gelatin. It's this gelatin that contains many amino acids that's perfect for bolster your immune system and improving your overall digestive health.
Because Neil and I are always looking to save money, we've learned to make our own beef broth and find it to be absolutely delicious and comforting, especially as the temperatures drop. It uses just a few simple ingredients and simmers all day long making the house smell of delicious beefy richness.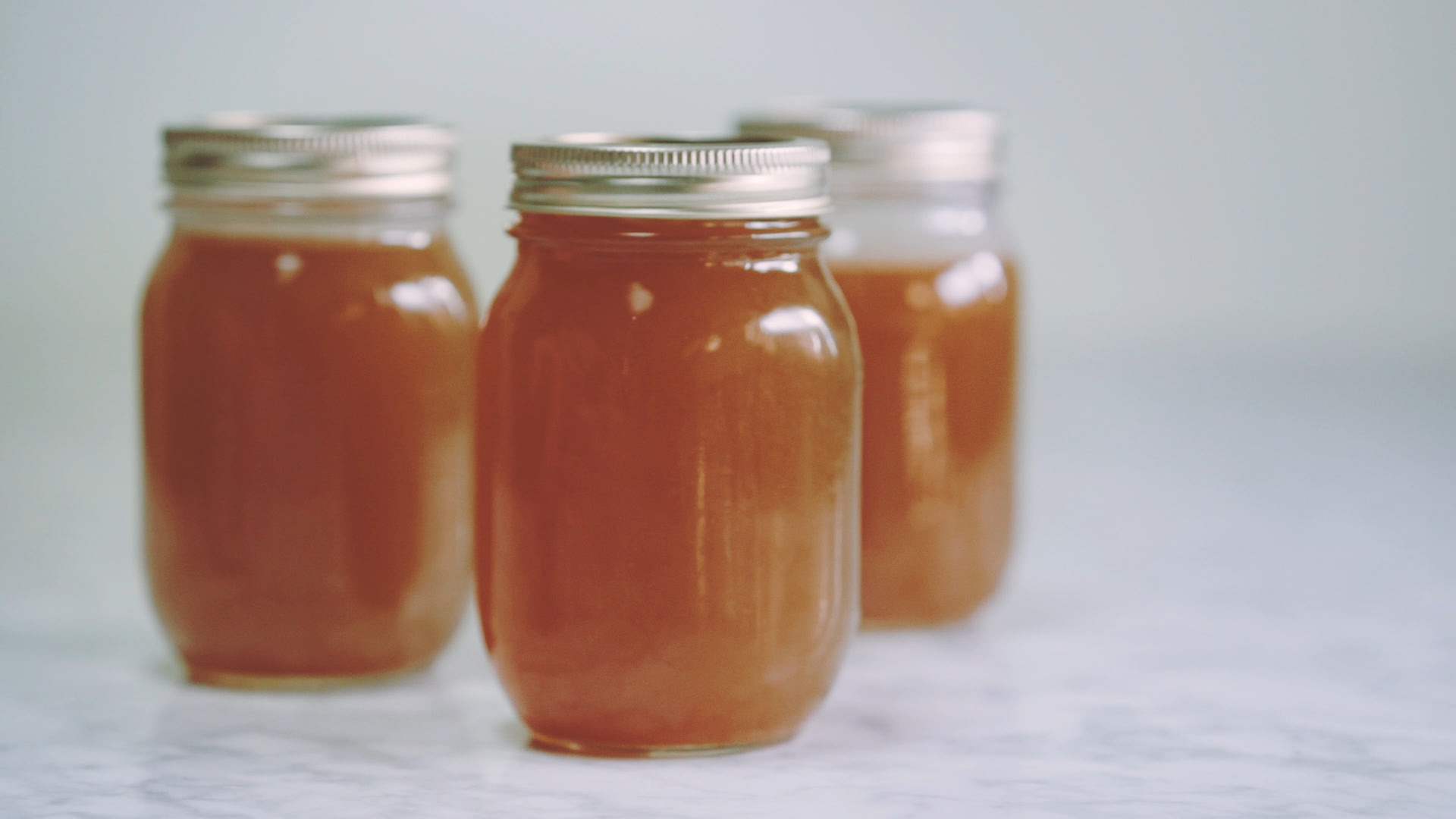 While we would always like to make our own sometimes it's tough to find the time to do so. Fortunately, there are quite a few pre-made options. I personally prefer the bone broth from Kettle and Fire. It's made from organic ingredients and grass-fed beef bones, and has a super rich flavor I haven't found in other brands. The best thing for me is that they're also non-frozen and shelf stable, so I can always have some in my pantry for when I'm short on time. Check out their online store and if you use the promo code "KOHLER15", you'll get 15% off your first order. That's more than enough incentive to stock up for a good chunk of this winter.

Paleo Beef Bone Broth
Recipe type:
Soup/Beverage
Prep time:
Cook time:
Total time:
Ingredients
3-4 lbs of mixed beef bones (oxtail, knuckles, neckbones and/or short ribs)
2 medium carrots (coarsely chopped)
3 celery stalks (coarsely chopped)
2 medium onions (coarsely chopped)
1 tablespoon of olive oil
2 tablespoons apple cider vinegar
1 bay leaf
Instructions
Preheat oven to 400 F.
Place bones in a single layer on a sheet or roasting pan. Drizzle with olive oil to evenly coat.
Roast for 30 minutes, then, flip each bone over and roast for an additional 30 minutes.
Chop the vegetables while the bones are roasted and put them with the bones, bay leaf and cider vinegar in a large crock pot or soup pot.
Cover completely with water and bring to a high simmer.
Reduce the heat to low and let simmer for 12-24 hours. Throughout simmering, add water as needed to keep all the ingredients submerged.
Once the broth has reached a dark rich brown color, remove from heat.
Discard the bones, vegetables and bay leaf and strain through a cheesecloth.
Cool the pot to room temperature.
Once at room temperature pour into jars and let cool in the refrigerator for at least 1 hour.
Skim the condensed fat off the top of the cooled broth and heat to the desired temperature.

We try to always keep some broth in the freezer and ready, but having a stockpile of our Kettle & Fire is nice, especially as the temperatures drop and you just want something comforting to sip on. For this round, we decided touse it to make an easy ramen.

Ramen with Bone Broth, Pork, Soft-boiled Egg & Greens
Recipe type:
Soup/Appetizer
Prep time:
Cook time:
Total time:
Ingredients
4 eggs
2-2½ cups ramen noodles
32 oz bone broth
2 large handfuls shredded spring greens
4 spring onions, finely chopped
2 cups fresh sprouts
Chilli oil, to serve
Pickled chilli to taste
1 tablespoon shallots, to serve
For the Ramen seasoning:
1 tablespoon mirin
1 tablespoon saké
4 tablespoons Japanese soy sauce
Instructions
Boil the eggs in a pan for 6 mins, then remove and put in ice water to cool.
Boil the noodles in a large pan, stirring so they don't stick, until al dente, about 3 mins. In the final minute of cooking, add the greens. Drain and divide between the bowls.
Mix the ramen seasoning ingredients in a small bowl. Slice the pork and add to the bowls.
Pour the broth over each and add the spring onions and sprouts.
Peel the eggs, slice in half lengthways and place in each bowl with a dollop of pickled chilli & shallots, if you like. Pass round the ramen seasoning and chili oil to serve on top.
Hope you enjoy these recipes, and definitely check out Kettle and Fire!

Disclosure: I am participating in the Kettle and Fire Affiliate Program and have been provided with feedback and additional media to use in this blog post in addition to the codes and benefits of being in the program.