This is my Best Books of 2017 post! It's always tough to pick favorites, but I've managed to narrow my list down to my top 5 favorite books I read last year.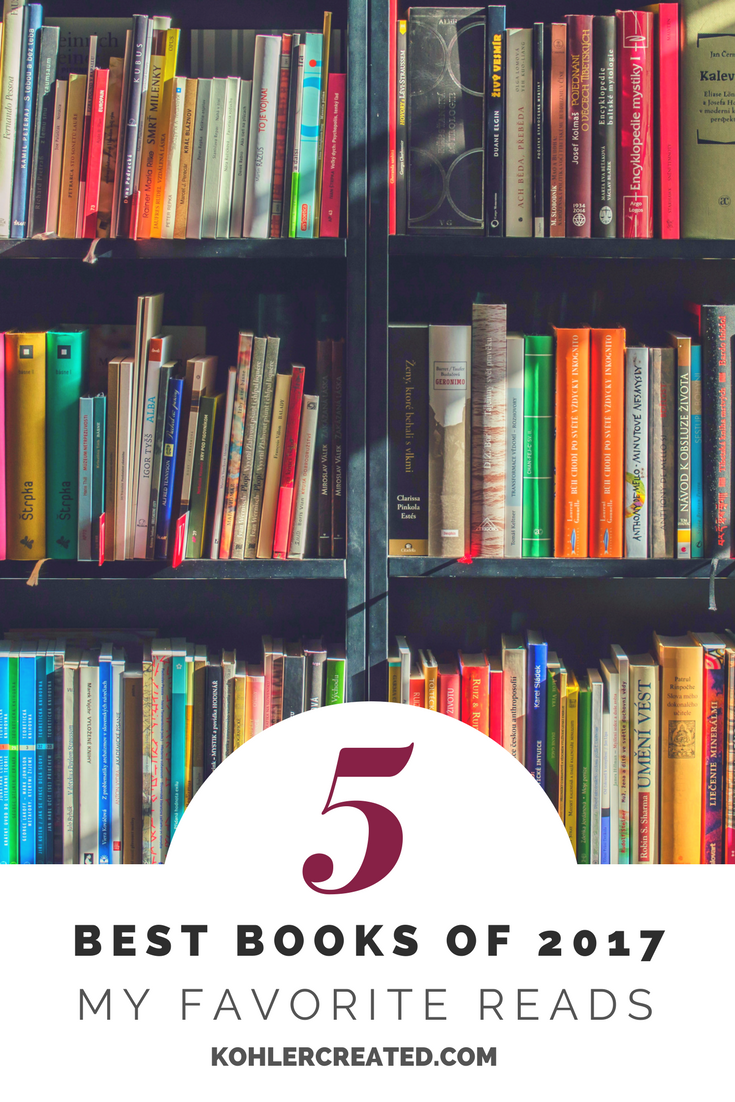 Aside from CrossFit and my family, my favorite topic to talk about endlessly is BOOKS. I love reading. I carry books with me everywhere — the doctor's office, the grocery store, and yes, even the movie theatre. Neil and I joke that I know all the latest books but am stuck in the '90s when it comes to music, and he's the complete opposite.
Looking Back on My 2017 Goals
If you are setting a goal to read more in 2018, joining GoodReads is the best decision you'll make. Not only is it the best way to learn about books you are considering, it's a great way to track your reads and reviews, receive suggestions, and plan ahead. The social aspect of seeing your friends complete books and share their recommendations is added motivation.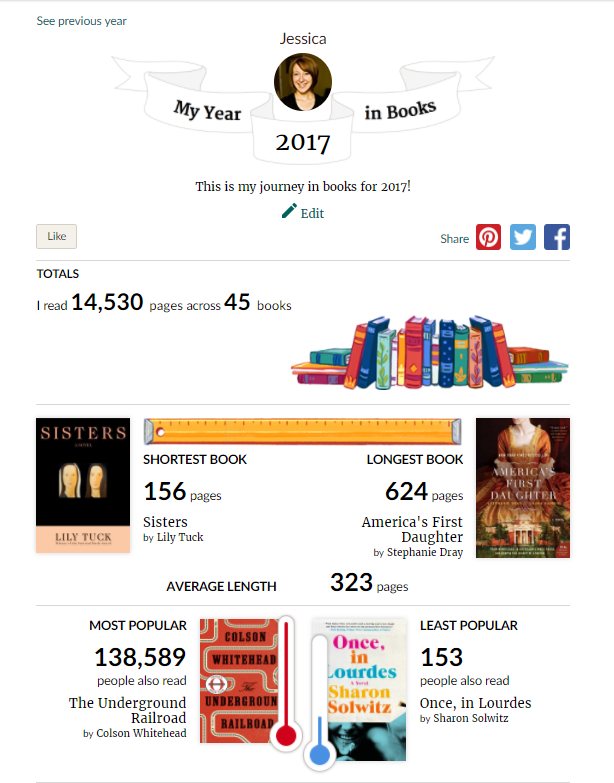 As you can see, I've nearly doubled my reads/pages since 2012 and my trend is generally upward. I've replaced reading where TV and other time wasters used to be and I generally feel calmer and feel more creative. Check out my blog post about how I've maintained my reading goals.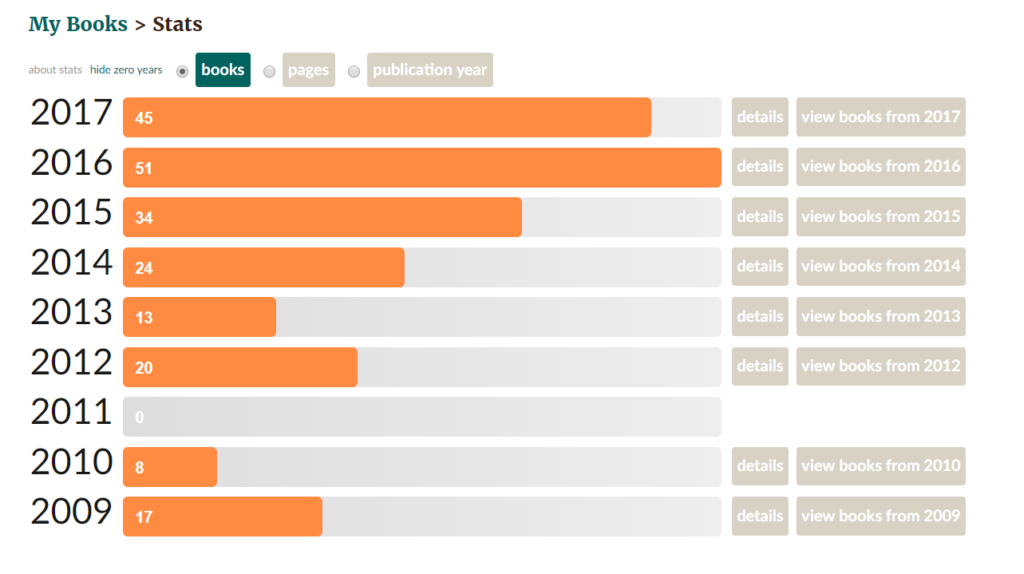 So let's get to my favorites!
Best Books of 2017
I know I have a lot of friends who are into the thriller genre, and Everything You Want Me To Be one was definitely my favorite in that category this year.
When Hattie Hoffman is found brutally stabbed to death, confusion and suspicion rip through her small-town community. This book is a reconstruction of the year leading up to her death, in which you watch an aspiring actress play out the various roles in her life: the good student, the good daughter, the good girlfriend. All in yearning for something bigger, and exceedingly riskier.
As we learn more about her story, we watch the town's secrets expose themselves, bringing the story closer and closer to her death. It's full of twists and turns right until the very end and kept me guessing — which is why you find it on my 'best' list.
Robert Carter lives in the wake of a tragedy that has rocked his family and left him feeling insignificant and alone. And then Nathan Tilly moves to town. Living in his own tragedy, Setting Free the Kites follows the boys' budding friendship in summer jobs at the amusement park owned by Robert's father. It's here we watch Nathan's boundless optimism and spirit while they watch their families reel in their tragedies.
It's hard to describe this one, you just have to read it. This was literally my first read of the year that had me in tears. Alex George's prose is absolutely beautiful, and this story is sure to become a classic. He lives here in town, so I try to control my freak-outs when I see him at the grocery store. Also, if you haven't read his other book, make it a priority for this year. I hear he's got his next coming soon!
Set in 1968 in Lourdes, MI (fictional town) and against the backdrop of the tense and changing environment in the U.S. near Chicago, four high school students, each entrenched in their own conflicts, form a tight bond and make a pact to end their lives in 14 days.
This was a slow start. I almost quit but decided to keep going because, well, it was the end of the year and was the 45th book of the 45-book goal I set for myself. I'm glad I stuck with it. Once it grabs you, it's a page-turner. There is so much tension, and the character development opens up so richly, you won't be able to put it down. You just gotta stick with it until you are about 1/3 of the way through.
Richard Rothstein, a leading authority on housing policy, explodes the myth that America's cities came to be racially divided through de facto segregation, or individual prejudices, income differences, or the actions of private institutions like banks and real estate agencies. Rather, Rothstein asserts, it was de jure segregation, laws and policy decisions passed by local, state, and federal governments, that actually promoted the discriminatory patterns that continue to this day.
We all know that atrocities and injustices that have been committed against African Americans, but few know how deep and how government-sanctioned they actually were long after 1877, and until how recently. When we bought our home in 2011, I discovered it had a restrictive covenant in the original deed. I've always had a love of history, especially American history, and so I began reading up. About Jim Crow, about the special (not) place Missouri has in American History when it comes to slavery and the civil rights movement, and even how housing neighborhoods evolved in my own town. So when I stumbled on this book earlier this year in the NYT Book Review, I knew I had to read it.
I wasn't prepared for was how much I didn't know about what went on. From the pervasive and predatory lengths our government went to in order to prevent people from obtaining housing to how we disproportionately took more of their money and charged them far more for unstable rent agreements and corrupt mortgages and prevented them from putting any away for savings. It was so deep and intricately woven in every facet of the government that even though this is non-fiction, I was brought to tears more times than I care to admit.
Long private Hollywood movie icon Evelyn Hugo is finally ready to tell the story of her glamorous and scandalous life. But when she chooses unknown magazine reporter Monique Grant for the job, no one can understand why. Why her? Why now?
Within Evelyn's Upper East Side apartment, Monique listens as Evelyn unfurls her story: from making her way to Los Angeles in the 1950s to her decision to leave show business in the late 80s, and, of course, the seven husbands along the way. As Evelyn's life unfolds—revealing a ruthless ambition, an unexpected friendship, and a great forbidden love—Monique begins to feel a very a real connection to the actress. But as Evelyn's story catches up with the present, it becomes clear that her life intersects with Monique's own in tragic and irreversible ways.
Far and away, this was my FAVORITE read of 2017. The rising career of Evelyn Hugo in 1950s Hollywood in an age where your press or storied reputation made or broke your career and appearances was everything just grabbed me from the get-go. It's impossible not to concoct a mental list of all the real-life actresses that inspired Evelyn while being totally heartbroken over and over again that she could never live in the open honestly with those around her. To think how many people were in hiding their entire lives?
Really Jes — just five books? What gives!
Okay okay, here are my honorable mentions!
Little Fires Everywhere by Celeste Ng
Lincoln in the Bardo by George Saunders
My Not So Perfect Life by Sophie Kinsella
The Underground Railroad by Colson Whitehead
Miss Jane by Brad Watson
What's in Store for 2018?
For 2018 I'm sticking to my goal of 45 books. While it's ambitious and keeps me on my toes, I never feel like it becomes a chore more than an escape. I have friends on GoodReads who read more than 100 books a year — truly impressive, but just not doable with a budding reader and tons of books to read her (sometimes more than a dozen times).
Have a book recommendation for me? What are your book goals for 2018?