Well we're back, and we had an amazing time! I couldn't imagine a better place to spend a week other than Colorado. The weather was amazing, and the rain staved off until the very last night. We had amazing meals, great hiking and some MUCH needed relaxation.
We left very early on Saturday night/Sunday morning, driving through the night across Kansas before finally arriving in Colorado.
After an additional 2 hours, we finally made it to Denver and on to Boulder. The picture below is when we first started seeing any mountains and I got very slap-happy with my camera.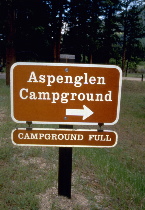 We arrived in Estes Park, and entered the Rocky Mountain National Park. We checked into our campground, Aspenglen. Its a beautiful campground near the entrance of the park with a superb view of the mountains. I've been camping before, many times as a kid, but mostly at KOA Kampgrounds where there were full bathrooms with hot showers, and electricity at the sites etc. This is kind of between that and primitive camping. There were toilets and service sinks, but no showers or hot water. There is no power and generators were prohibited. Because of the wildlife, you also have to lock all your belongings up when you are away from the site. Essentially you are living out of your vehicle for the length of your stay. It really isn't that bad, and you learn to stay very organized.
As we have not done a ton of camping, we have recently acquired a lot of wonderful equipment. The Eureka two-person tent was a Christmas gift from Mom and Dad Kohler. We bought Coleman mummy sleeping bags on Amazon for $35 dollars each. Inflatable sleeping mats were around $50-75. We managed to buy each other the same gift of JetBoil Cooking Systems for Christmas (around $150) and we picked up two Kelty packs for an amazing price of somewhere between $50-$100. While we were in Estes, we picked up a sweet Camelback from $65. It's come to good use already.
The first night we had hot dogs, chips and s'mores and just relaxed from our long drive. We meandered down to Estes Park to check out the main strip that consists of restaurants, and your touristy shops.
Monday morning, we set out bright and early to hike and see the lakes and mountain areas around Glacier Basin. We stopped off first to visit the campground that Neil usually stays in. It is currently closed due to the unusual beyond-threshold numbers of Pine Beetles that are killing the trees and causing park officials to cut many down.
You can see the tree removal equipment behind Neil in the above picture. After that we parked and made our way to the trailhead. I've never hiked before, and as a total newb I think I kept up, despite the thinner air. Here is the map of the trailheads and areas were were in that day so you can follow along:
You can really see the gravity of the damage from Pine Beetles in this picture. I kept saying that it felt like we were camping in fall with all the color variance in the foliage until you remembered that 98% of the trees are conifers.
Alberta Falls
The sign pointing us to Mills Lake
Looking at Flattop Mountain, which we hiked later in the week. At the time, I was absolutely petrified.
A view of Long's Peak from the Trail. We didn't do this hike, but I'd like to next time. The trail does not go all the way to the peak, but pretty far.
We made it to Emerald Lake. It is gorgeous, but you definately feel the cool air coming from the ice above. It is very windy. To access the lake, you have to climb over these rocks.
To give you some idea how big the rocks are. On this day, I was wearing my Missouri State shirt and everyone that was around us at Emerald Lake was from Missouri!
Here is a view of the lakes from the peak. Neil had to take these pictures because I am very very afraid of heights and sheer drop-offs.
Neil and I at Dream Lake.
An older couple was nice enough to take this picture of us, and its one of my favorites.
Tuesday was our first shower/laundry day. There is a little hole in the wall place called Dad's Laundry and they have both laundry and showers in the back. Not uber private, but when you're grungy, you'll take anything. After, we decided to explore Rocky Mountain National Park. We ended up taking a scenic mostly dirt one-way road to the top of Alpine Mountain where you can either come back around or cross the continental divide into the other side of the park. Needless to say, my fear of heights led me to curl up in the bottom of the car in prayer. It also forced Neil to traverse most of the peak by himself while I hid out in the visitor center.
We saw a deer on the road on the way up.
A mountain stream on the mountain.
See that little lump? That is the Visitor Center way up there. It's hard to really capture how far and how high it really was from where we were, so you'll have to take my word for it.
The top is a tundra ecosystem as you might find in northern states and as you get closer to the north pole. The grasses are short and scrubby and the plants and even trees are short and grow sideways.
Neil had to have someone shoot pictures of him at the outlook spot.
Taken to show how high up we were.
I hid out in the visitor's center. In retrospect, after hiking higher points, this was nothing.
The way down was scary. I do well with heights when there are trees and its not so much of an open drop-off/cliff. The two lane highway that descends Alpine for the first 15 minutes is very out in the open and narrow. However, it was one of the only places I was able to see Elk.
Wednesday was our big hike up Flattop Mountain. I was really nervous about this one. But after feeling silly for my previous panic attacks, I told Neil that I was going to do my best and make it to the top, or at least some semblence of the top. It is about four and a half miles to the top and because the air is so much thinner, with breaks it ends up taking you about an hour per mile. It was mostly tree lined, and we started early so it was very peaceful and quiet.
The women on the left were experienced local hikers, and the people on the right were a group from Illinois who had about as much experience as we did. After we left this point, we were following them and talking when an older gentlemen (around 65+) breezed past us on the way down wearing little more than bicycle shorts and a pair of regular running shoes. He had NO water and was running down. Neil had told me that there are many older locals who run these trails daily, and I didn't believe him, but it was amazing. I can't imagine being in that good of shape or at that age and able to run up and down mountains without a camelback. Truly admirable. The woman pictured here in orange whispered to him, "You're my hero."
Neil and I made it to the top, and the view was beautiful, although I was nervous to look around too much because I was afraid I'd get anxious and end up in anxiety attack again. You can actually take this trail further to Hallet, but its a very primitive trail so we opted out.
On our way down, we stopped for snacks on a large rock. We made a new friend in this ground squirrel as he was happy to join us as long as we kept the chex and peanuts coming. The ground squirrels in RMNP are shameless. Everywhere we went, they were there, begging and willing to entertain you in return for food. We stopped at Bear Lake at the bottom and one tried crawling into my lap and ended up sitting onto my shoe.
After this, he tried climbing into the camelback.
Friday, we drove into Boulder to meet one of my good friends Patrick and do a hike in Boulder at Chautauqua Park called Flatiron Trail. It is a gorgeous  park with many scenic marvels such as this boulder field caused by a glacier.
Patrick and his wife Jen were gracious enough to let us stink up their shower, and Patrick made us a wonderful dinner. While we were in Denver, we visited a cool liquor that had many local varieties of beer and wine that we purchased. We also had fabulous Pho and Noodle dishes for lunch. It was a a great but sad day because we knew we were going to leave the next day. We were looking forward to one last campfire, but when we arrived back at camp, the wind and rain started almost immediately after Neil remarked how few campfires there were that night.
Words can not completely nor accurately describe in full how wonderful our honeymoon was. Colorado was beautiful and it was the perfect place for Neil and I to getaway and spend time together. Even though we've been together for nearly three years, this was the first vacation we've taken by ourselves, and I'm so grateful we were able to do it. I may be biased, but we are an amazing team, and if this trip was any indication, there are many good things yet to come.
Note: I did my best to articulate the highlights of our trip. It would take weeks to fully describe the many things we did, experienced, ate, and took away from this trip. I may add to this post over time, but I wanted to publish what I could as soon as was possible.