So fun weekend in Council Bluffs (basically Omaha), IA for the Battle in the Bluffs competition. Here are some pics from our time (my rant is at the bottom):
Oh Andrew…
Makenzie with a 55-lb dumbbell snatch
Andrew getting impressively low in a pistol
Stacie Tovar
Thor, AKA Jared Stevens from CrossFit 417 did these 15′ rope climbs in two pulls.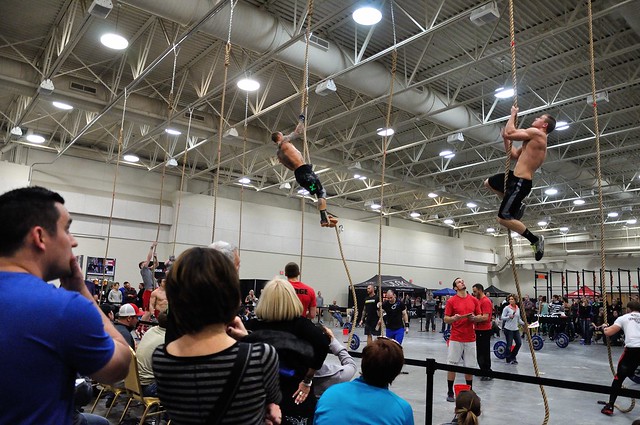 The guy on the right was doing the rope climbs LEGLESS. All of them.
Someone met their girl crush Stacie Tovar
My bro and I. Please excuse my appearance, I'd been at the convention center almost all day and was EXHAUSTED.
Celebratory pizza take-out. Haven't had pizza since way before Whole30!
While it was really fun watching our athletes compete, I was left pretty disappointed in the competition itself. It just really wasn't that well put together. I don't mean any disrespect, I am aware of how much work goes into planning an event like this, but safety has always been a huge concern of mine when it comes to CrossFit, and this competition just didn't seem to share that sense of priority, creating some pretty cringe-worthy moments.
It started on Saturday when I noticed there was no on-site medical/paramedic staff. This quickly escalated when it was clear there were no clearly measured or marked areas for athletes, creating a mess of athletes doing overhead squats and dumbbell snatches so close to one another that bailing on movements put the surrounding athletes at risk of being hit. Additionally, there were no stall mats or lifting platforms, leaving the athletes to lift, run and work on polished concrete which, when mixed with chalk, became very slippery. If you remember some of my pictures from HOA, you know our areas were very clearly planned and measured, with plenty of room between each platform.
When they started attaching ropes to the ceiling for 15′ rope climbs, no crash mats were installed with the ropes. The WOD ended up being a very difficult rep scheme of rope climbs and snatches, and with all the chalk , people were sliding and ending up on one or both knees trying to complete snatches, or almost falling into splits. Being just a month out from Kevin Ogar's accident, I could barely watch this event, and was relieved that 2 of our athletes decided to withdraw.
I'm typically a pretty go-with-the-flow person, but the issue of safety is one I don't take lightly. My husband's hobby is one that carries a good deal of risk. He races his car on a track. But, the moment you arrive to an event, you know immediately that safety is the priority. They not only require safety equipment in the cars (which falls to the owner) but do a barrage of checks  before drivers are allowed to enter the track area. They also have procedures for when things happen that keep other drivers safe, and conditions under which they cancel events or don't allow them to continue.
Why hasn't this been done in CrossFit?
If CrossFit HQ wants no attachment to competitions other than the Open, Regionals and Games, why is not worth considering a sanctioning body to determine base requirements for other competitions? To me, the idea of stall mats, crash mats, and on-site emergency response seems minimal to scope, and if you want to enter the realm of planning and holding competitions, then at the very minimum the first tasks to address are those that ensure athletes are as safe as possible.