Want to make meal prep even easier? Use staple recipes!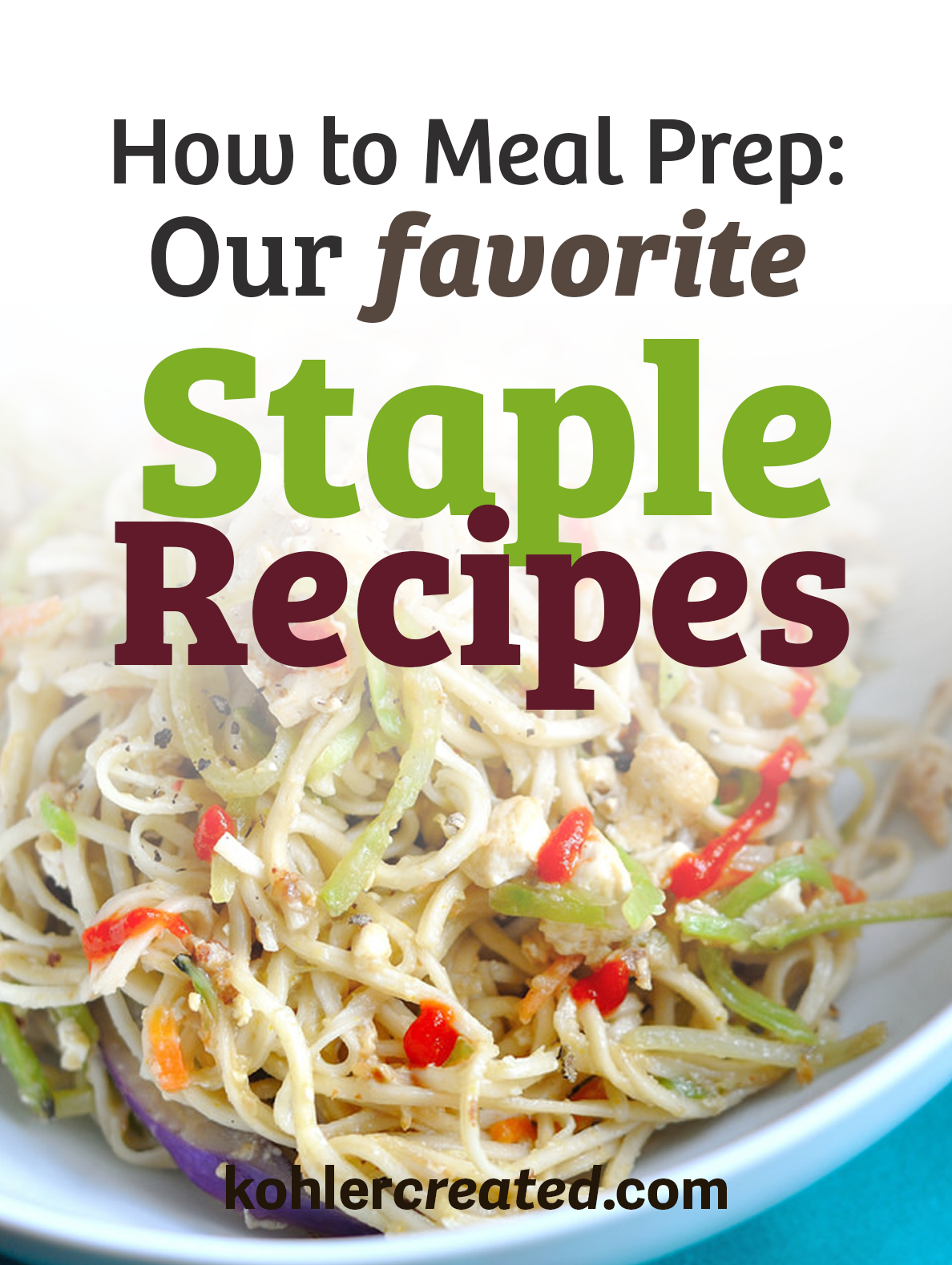 Thank you guys so much for your feedback on our first meal prep post! I'm so glad the tips helped so many of you. On to our next topic, staple recipes!
Staple recipes are another way we eat healthy while saving time and money. Meal prep hasn't always been an easy habit to keep, but one of the ways we make it easier on ourselves is by planning our menu around weekly sales and keeping our meals simple. Part of keeping things simple has been sticking to a core group of staple recipes for the majority of our meals that are easy to prep, reasonable on ingredients, and offer the best health bang for buck.
So due to popular demand, here is a big list of our staple recipes organized by protein! I've added a "*" to indicate the easiest (in my opinion) recipes. These are constantly evolving because, well, we like to eat, but as you know, I'm pretty good about talking about my food anyway, so I'll try to add them to this post as we go.
Avocado Chicken Salad
Chicken
Taco Salad (chicken)
This easy meal (via Wholesome Yum) is great with beef or chicken and easy to throw together when you have a lot of miscellaneous leftovers.
Crockpot Chicken Fajitas*
Another stupid-easy-can't-fail recipe (via Humbled Homemaker) we often throw together is crockpot fajitas. They are also really easy to prep and freeze for later.
Baked Whole Chicken
One of the things you learn quickly in your meal prep journey is that a whole chicken is often cheaper per pound than individual cuts (especially boneless skinless). Whole chickens are intimidating at first, but once you learn to prep them, the anxiety tends to disappear quickly. This is a great go-to base recipe to work from, and then customize with different flavors/seasoning.
Chicken Wings
Neil's favorite! We make wings quite a bit because they end up on sale and are easy to pair with veggies and taters. Like steak (below), they are a great meal to kind of mimic the take-out you love, without all the grease.
White Chicken Chili
White Chicken Chili is one of the first recipes we roll out in the fall, it's tradition. It's lighter than the red chilis if that's your speed, and is a great meal that will probably last you a good portion of the week.
Avocado Chicken Salad
Even though I don't mind mayo in my chicken salad, I know a lot of people do, and that's why this recipe is an easy hit for lunch or dinner, especially during the summer when you're not really amped for hot meals.
Chicken Fingers
While these chicken fingers might require a little more hands-on meal prep, I love them as a way to change up our chicken game for the week.
Paleo Sticky Baked Chicken
One of our easy go-to recipes is just simply baking the chicken. Perfect to adapt to whatever cuts are on sale for the week without hassle.
Crockpot BBQ Chicken*
Similar to the above-baked chicken, but this recipe is for the slow cooker, which is great when you're short on time. We've done this with a variety of cuts, everything from drumsticks to boneless skinless chicken breasts (to shred). This recipe is nice because it doesn't contain added sugar.
Beef Stew
Beef
Taco Salad (ground beef)
See description and recipe above, great with beef or chicken and easy to throw together when you have a lot of miscellaneous leftovers.
Shepherd's Pie/Tator Tot Casserole
Being from Minnesota, I grew up on hotdishes and casseroles, so they are something that I crave once the weather starts getting cold. You can easily swap white potatoes for sweet. I've also made them Whole30 compliant by cutting a few ingredients and making my own fries for the top of the hotdish without much of a taste difference.
Meat Loaf
I hated meat loaf growing up, but now I love it. It's super easy, lasts quite a while if you double, and packs a mega protein punch. We have two recipes we like:
Beef Stew
As soon as the weather turns cold, I love comfort food. This hearty stew is all comfort and no discomfort in prep work.
Beef and Broccoli
A lot of Asian cuisine is super easy to double-batch and cook quickly, which is why it's a favorite for us. Beef and Broccoli is a restaurant favorite of ours that we've now made at home a bunch of times.
Steak
This isn't a recipe so much as a method. I feel like steak is one of the easiest ways you can stay on track but feel like you are doing something special — especially during a Whole30 Challenge! Here is Neil's method, straight from Gordon Ramsay's Ultimate Cookery Course. The only tip we'd add that was left out of the video is to let your steak REST after cooking.
Beef and Bacon Chili
We like both red and white chili recipes, but this one has bacon, so it kind of wins me over.
Pork or Beef Pot Roast
Pork
Slow Cooker Korean Pulled Pork Sandwich (Hapa Nom Nom)*
Pulled pork is another well-loved staple recipe in our house. You can church it up easily with difference spices or kimchi etc, and you can serve it with or part of just about anything. We've made tacos one night, and then just served it over mash the next.
Pork (or beef) Pot Roast*
This pork or beef pot roast recipe is one of our most used recipes because it needs next to nothing ingredient-wise, and you literally just dump it all into the slow cooker. You literally can not screw this one up, and it's great by itself or served with rice or over mashed potatoes (sweet or white) to make it last even longer.
Sausage and Kale Soup*
This soup recipe has to be one of the easiest in existence. And it is just so. SO. GOOD. Seriously, give it a try!
Egg Salad
Eggs
Egg Salad*
I love eating this egg salad recipe on toast, in a salad, or even just by itself. It's an easy thing you can make every few days and have on hand for an easy snack or meal.
Tomato Avocado and Egg Salad* (Mark's Daily Apple)
I ate this simple salad of tomato, avocado, and egg nearly every day while I was pregnant. It's light but filling and super easy to make on the spot. You can eat it as a side, or even a main dish.
Simple Paleo Veggie Quiche
Can't go wrong with an easy quiche recipe for breakfasts in our busy house! This recipe is crustless, so if you like a good crust, I'd recommend the olive oil tart crust from Chocolate & Zucchini that I've used in this recipe. I've also used this recipe from Elana's Pantry for a Paleo crust.
Vegetarian
Spicy Vegetarian Stout Chili
We don't eat vegetarian all that much anymore, but this recipe is still one of my favorite chili recipes. It's hearty and super flavorful, can be spiced to preference and will last you more than a few days.
Curry Ginger Banana Stir Fry
Any Protein
Meatballs*
Meatballs are a great way to use leftover ground beef/meat, or make quick use of ground beef/meat you happen to find on sale. We always have the ingredients on hand, and we can batch and freeze them for future quick meals. Since they are small, they thaw pretty quickly, so you can take them out on the fly pretty easily.
Stir Fry
Stir fry can be made with pork, beef, or chicken, or no meat at all. It's all about sauce, and we have no shortage of stir fry sauces to recommend. Neil uses a pretty similar base in all of these and he literally doesn't measure anything anymore, which makes these hard easy to customize. I love a good curry, and I especially love anything that has a good peanut flavor, so if you do too, I highly recommend trying these out and finding your flavor jam!
While I've just given you our staple recipes, it's important that you decide what works for you and ultimately, what you enjoy eating!
Now it's your turn! Do you have any staple recipes to share?