Above: Paleo Beef and Winter Veggie Stew
Is there such a thing as a diet challenge cop out?
Every year, CrossFit Fringe undertakes the Whole30 Challenge. I help orchestrate, so of course it seems only fitting that I too step up to the plate — literally. (Here are a few of our adventures in Whole30 from last year.)
Last year, I was brave (or insane) and undertook the challenge in my first trimester of pregnancy. You know, when all you want is 7-UP and crackers, and the idea of any kind of meat puts your stomach over the edge. But I did okay and only supplemented some whole fat organic dairy to boost my daily intake of fats/protein. While I didn't continue the Whole30 way of eating after the challenge, I did go on to maintain a ridiculously clean diet. I will probably never eat that clean again.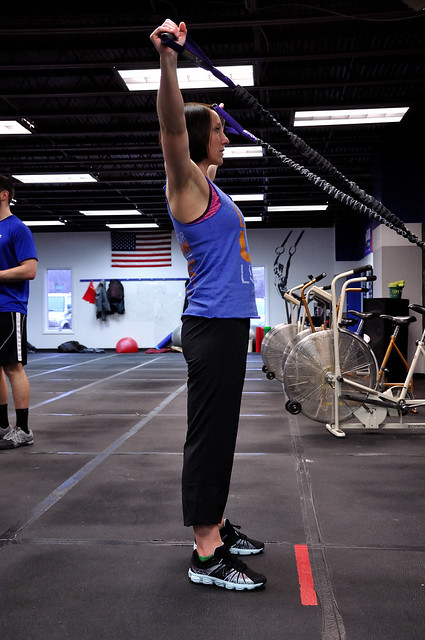 Above: CrossFit at the start of 2nd trimester, after doing Whole30
And it's not that I don't eat well now, but I do like my weekly pizza date with Neil, and coupled with being Kaitlan's sole food source and trying to return to competitive CrossFit, I am eating nearly all the time, and often find myself never full and hungry at really random and often unpredictable times. Conditions that would make a traditional Whole30 challenge next to impossible or downright inconceivable to attempt.
But I still want to do it. I love a challenge, and I love the community aspect of sharing the highs and lows of the challenge.
So where does this leave me?
This has been on my mind for about a month. Even though I know I could adhere to the guidelines if I really tried, I also know my current life doesn't lend itself to predictability and the ability to plan everything as well as I'd like. It's not defeatist, I'm realistic. And my priority right now is to maintain my breastmilk supply and be as consistent and low-stress with that as possible.
So I was relieved to see that Jessica Quirk of What I Wore (also a breastfeeding mom) is accepting the challenge from where she is in her life. She's making some adjustments to the challenge rules, but she's also still willing to do without in the areas that she knows she can do without. I like that — so in true blogger fashion, I'm going to steal the idea and do it as well.
Above: No-Knead Sourdough Cinnamon-Raisin Swirl Bread
So I'm going to keep oatmeal, rice and quinoa, as well as the sourdough bread I make and organic butter. Just the things I need to make life as a new mom and active athlete a little more palatable. At least I know alcohol won't be too hard to do without!
So is this a cop-out? I'm not sure. I think this all speaks to my seemingly recurring mantra of progress over perfection and doing your best from where you are. Our challenge starts the 18th, so stay tuned for more!