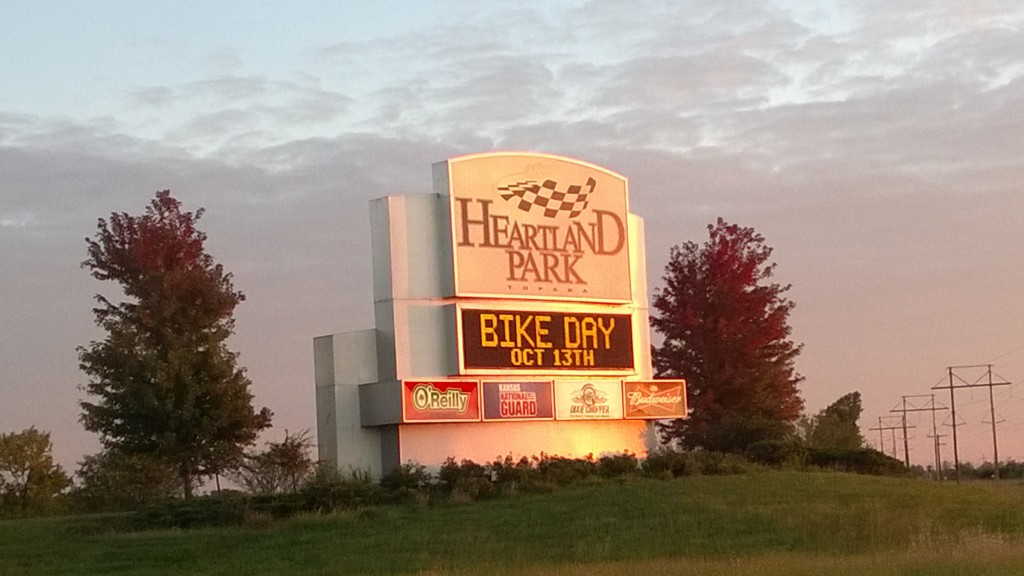 This past weekend I attended The National Auto Sport Association season closer at Heartland Park Topeka! This would be my 4th event of the year, and considering everything that has gone on in my life in 2014, that is pretty damn good!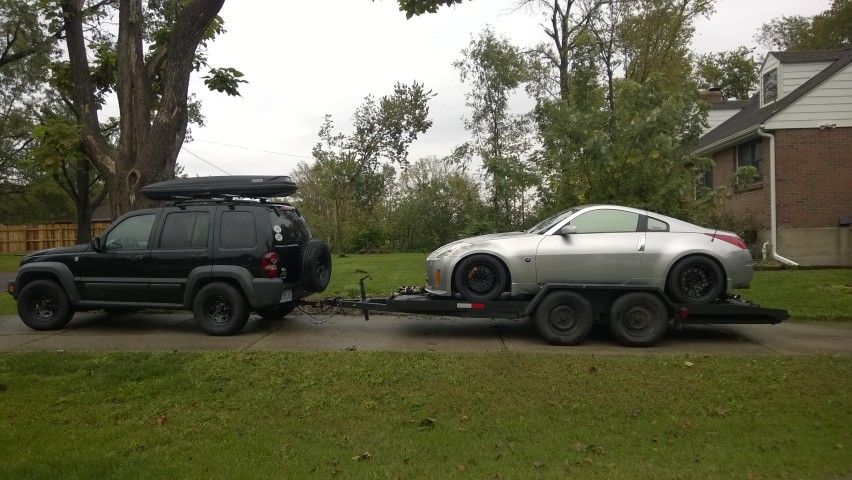 This was my first time to Heartland Park Topeka. I left Friday around 2PM to try to get to the track by 5:30PM and get my car tech inspected, unloaded, and ready for early Saturday morning. Since this weekend was another weekend I was going alone, I opted to sleep in the Jeep. That turned out to be both the best, and the worst idea.
The best thing about arriving the day before is having everything ready so that you are not scrambling at 6AM trying to get everything done before 8AM track time. Typically we will get a hotel near the track but even that tends to make for a very early morning because you still have to pack up and check out, drive to the track (even if its close) and completely unload the car. This means usually we have to wake up at 5AM.
Camping out at the track you just wake up, wash up, and have time to even make a coffee and eat breakfast before hitting the tarmac. I got to sleep in until nearly 7AM!
Unfortunately I thought that I could sleep in the Jeep comfortably with my Big Agnes sleeping pad and my toasty Big Agnes mummy bag. Well… that works in theory, but when you cannot stretch out completely in the back seat, the mummy bag is mostly rendered useless because it cannot zip up fully and the sleeping pad folds up on itself. It made for a pretty crappy sleep. Next time I am pitching a tent on the trailer so that I can at least stretch out and zip up my bag. Even if the trailer is very cold, we have good camping gear that keeps you warm in sub zero temperatures, so I should be fine.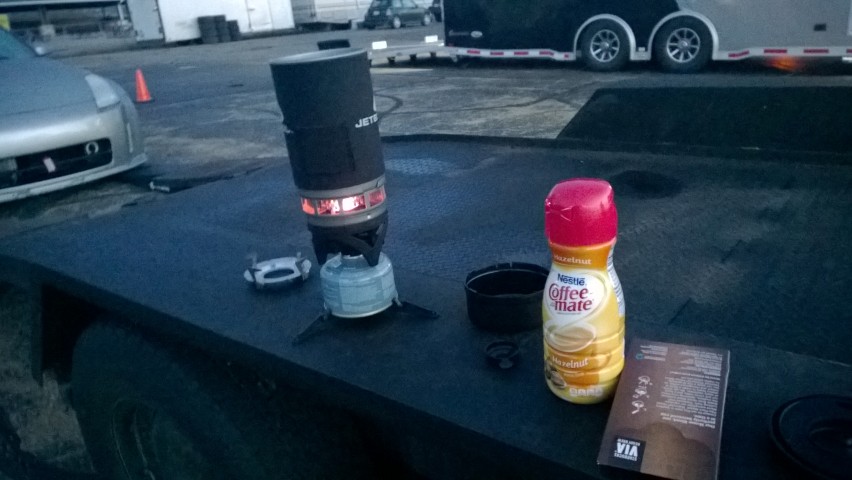 With a frosty morning and myself a little stiff from the poor sleep we got started with the day!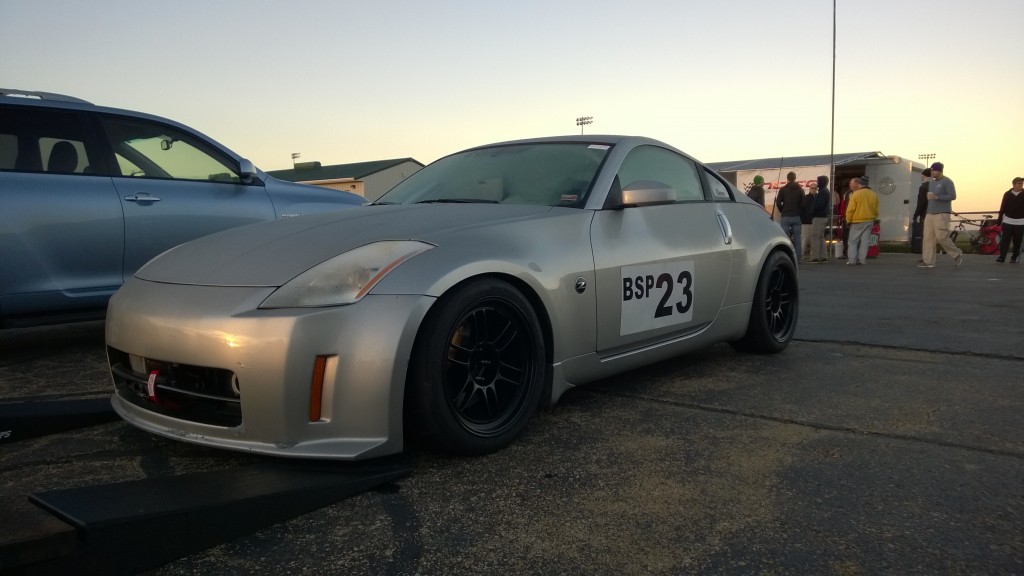 I was a bit nervous about the day to be completely honest. Kaitlan (my 8 week old baby), had kept me so busy the past couple months that I had not much more than glanced at a HPT track map. I was going in to my first session completely blind. A friend offered to show me the line and drive in front of me, but a few people got in front of me in pit lane so it was pretty much all up to me!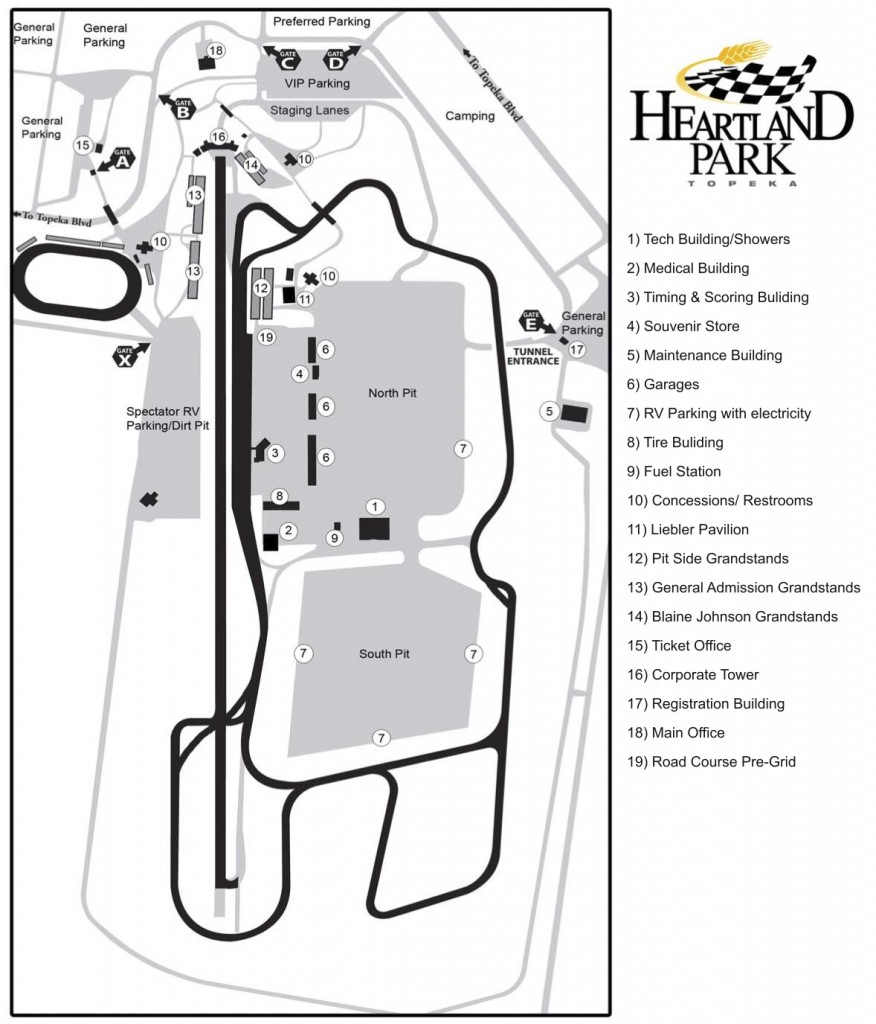 Thankfully after just a few laps the track really started to click with me. I am not sure if it is the way I drive, or how my car handles or perhaps both, my line really came together quickly and by the end of the first 20 minutes on track I was already consistently finding a smooth line and not holding anyone up. It felt great to be able to be that adaptive.
You may notice I have a passenger in that photo. Yup, my brother Alex who lives in Kansas City came by and rode along with me for two 20 minute sessions. It was fun to have him in the passenger seat and chit chat about racing, while racing! Afterwards he told me that he definitely can understand how and why I am hooked on this hobby. We had a great time and by the end of the sessions I decided to hot dog it just a little for him.
A power slide out of turn 14 for a cool photo!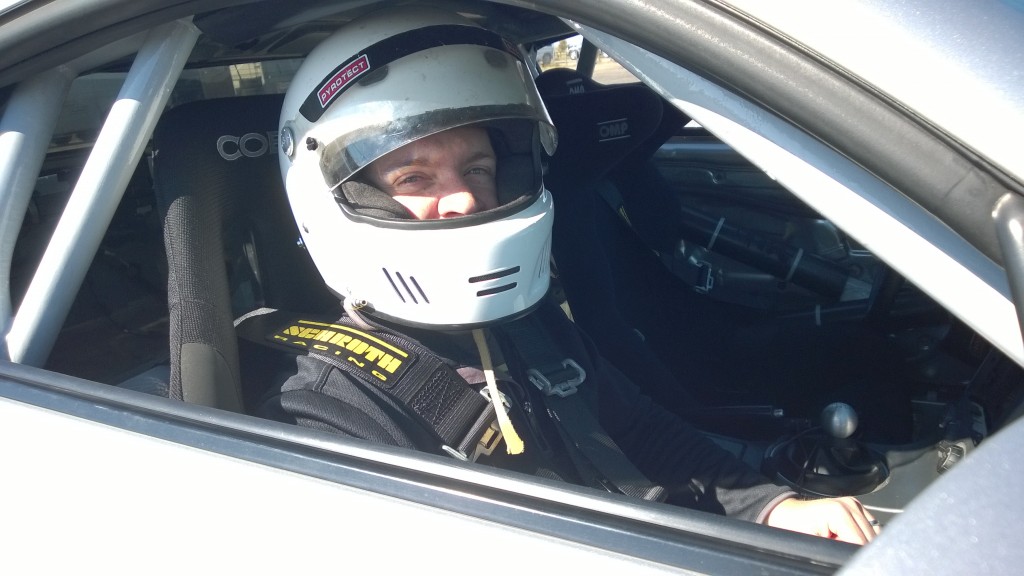 By the end of the day I feel like I was really hitting on all cylinders at Heartland Park. Yeah, first day out I am not breaking any records but I was really happy with my progression. I really want to go back next year and start to push the car a little bit more at this track now that I am fairly comfortable with it. However this time I will bring the tent!
Here is a video of my 2nd session of the day, a full 20 minutes!
10-11-2914 NASA HPDE3/4 Session 2 Heartland Park Topeka Full Circuit from Kohler Created on Vimeo.
Looking back, the 2014 season was really great; probably one of the best thus far. I got to visit some really awesome tracks that I have never been to which really helped me come around as a driver and learn to expect the unexpected and adapt. Considering everything that happened in 2014 I cannot complain at all about being able to still squeeze in 4 track weekends.
My year in review!
1. Gateway Motorsports Park – St. Louis, MO
2. Mid America Motorplex – Omaha, NE
3. Hallett Motor Racing Circuit – Tulsa, OK
4. Heartland Park Topeka – Topeka, KS
But before I go, I was packing up the car for the drive back and decided, well… why not grab some free food and drink as the NASA Central guys always serve great food and drinks on Saturday night. As usual the award ceremonies commenced as everyone ate. Not wanting to be rude I stuck around and great driver after great driver went up and received their season awards.
Then I heard something along the lines of "this driver not only runs his own business but also has a brand new baby" and to my surprise my name was called out as "HPDE driver of the year". I was shocked. There are so many great drivers in the HPDE program that it was truly an honor to be recognized and awarded driver of the year. While I have come very far with my driving, watching those more experienced than I reminds me how far I still have to go. Not such a bad thing as the journey is so very enjoyable, I would rather not skip ahead.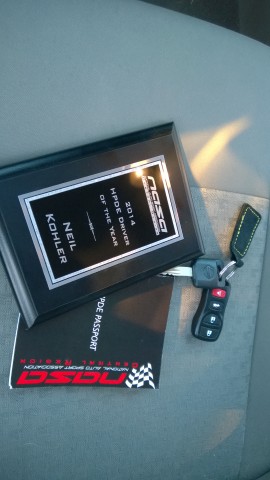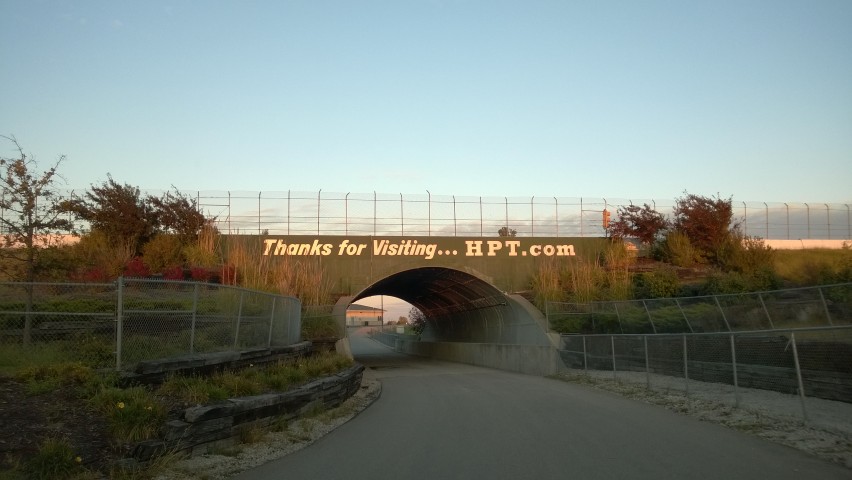 2015 is going to be an ambitious year. Not only will I do competitive school for my racing license, dabble in some time trials and perhaps even wheel to wheel racing, but I will also be bringing Kaitlan along to take in all that is a track weekend. Maybe the experience will rub off on her, you never know, I would not complain!
Want to see more pictures?