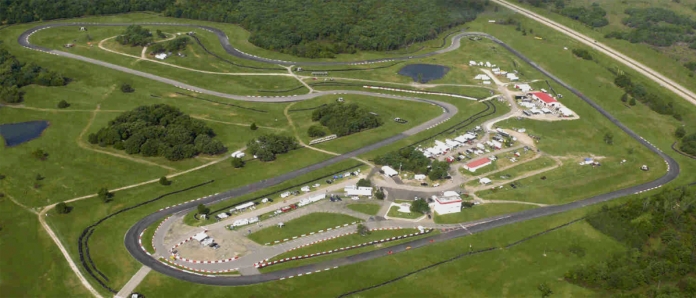 So this post is about a month late, but I was waiting for the photos from the on site photographer to do a recap. Now that I have those, lets talk about Hallett Motor Racing Circuit!
So I made the 7 hour trek to Hallett Motor Racing Circuit to run with the National Auto Sport Association HPDE3/4. Hallett is about 30 minutes west of Tulsa, OK. I decided to go further than I usually would for a track weekend on the advice of a few friends that Hallett is in their top 5 tracks in the USA and would be something not to miss.
The long drive down I44 and through toll roads ($10 hauling a car one way?!) makes you a bit skeptical if the trip is going to be worth it, but Hallett proved that wrong.
The track opened up in 1976. A clip from Wikipedia:
Hallett Motor Racing Circuit is a road course about 35 miles (56 km) west of Tulsa in Northeastern Oklahoma, USA. The track has 10 turns in 1.8 miles (2.9 km), and over 80 feet (24 m) of elevation change. The track can also be configured to run both clockwise and counter-clockwise, yielding two distinct race courses.
Wait…. 80 feet of elevation change? Yeah, that's right. Okay I see now why this track could be a lot of fun.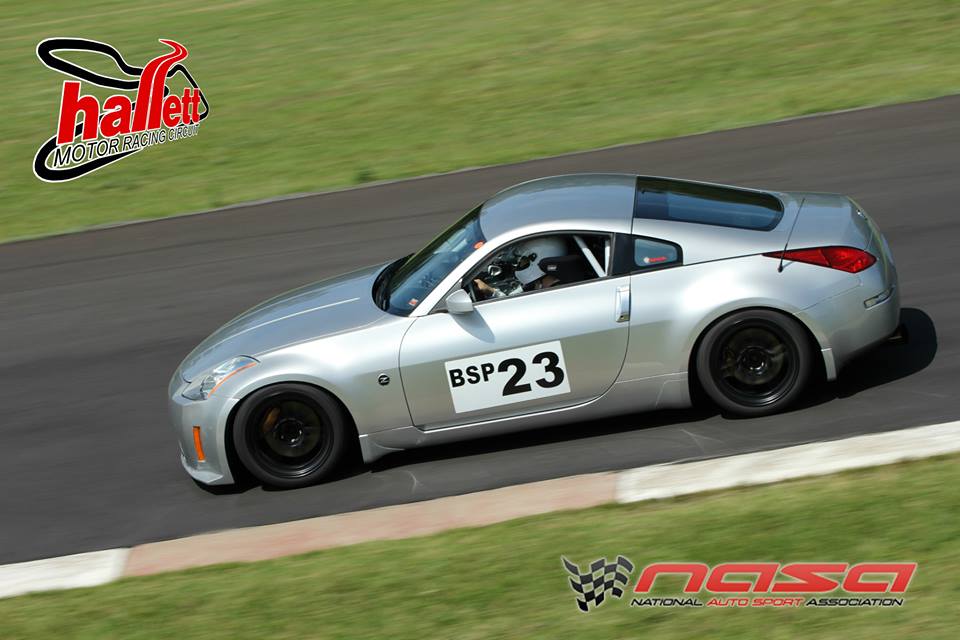 The weekend was called the "Summer Shootout" which had both NASA Central region AND NASA Texas. The paddock was absolutely packed as I arrived early Saturday morning. I barely was able to find a spot!
I ran with the HPDE 3/4 group and since I have never been on this track the first session out was a bit sketchy. Running with other people who are familiar with the track and very fast can be really nerve racking when you are trying to learn the track while keeping a good pace so that you are not in everyone's way.
However after a couple sessions I was really getting into the groove and feeling out this track. Talk about a hoot. There is so much to say about this track, but here is the short and skinny:
Turn 1:
A turn that you come into from the back straight quite fast, however this turn is slightly banked which allows you to take it fast… a lot faster than you think, and over the day I kept going faster and faster on this turn with much success.
Turn 2-3:
A very slow turn that you have to get right otherwise you really add on a lot of time, slow in, fast out on these guys.
Turn 4-5:
The first of your uphill turns that were a bit scary at first because I am not really used to dealing with the car getting light weight at the top of a hill while turning.
Turn 6-7:
Really fun turn, stay way outside and turn in a bit later apex, hammer it down and just hold on.
Turn 8:
Another uphill apex. Take this as a straight line, know where the apex is and no problem. Keep in mind the weight upset of cresting a hill.
Turn 9:
Labeled "The Bitch". Rightfully so, coming in quick on this turn downhill makes for quite a turn that is already a bit tight, I stayed outside and apex this late and hammer it down as there is plenty of track out room.
Turn 10:
Double apex or stay outside and apex late, the rumble strips here are a bit scary, track exit room is pretty good, so fast, fast, fast out.
Here is a video of one of my laps, check out how smooth the new GoPro Hero3+ is! Soooo much better than the iPhone camera. Also I can now do Picture in Picture! More on that in a bit:
6-21-2014 – Hallett Motor Racing Circuit Lap 6 from Kohler Created on Vimeo.
Originally the reason why Jessica did not come with me this time (I was flying solo) was because of the heat and typically track weekends are not very forgiving. Most of the time you are sitting on asphalt and the only recourse to heat is an umbrella and a bunch of water.
Little did I know that Hallett has excellent facilities! Hot showers, an air conditioned cafeteria, a small gift shop, and a legit camping site! Really great facility. Jessica could have come had I known this.
So about that new camera. I could not handle the vibrations of the iPhone camera any longer. It was getting to the point where the videos were un-watchable.
So we decided to get a GoPro. These little guys are really useful for a lot of things that we do. Hiking, Camping, recording workouts or lifts to check form, and it has a 10 megapixel camera as well just for snapping photos.
This also gives me the option to still use the iPhone camera, but as the smaller Picture In Picture. What do you think I should have for the second camera? Driver view? Behind the car? Feet view? Suggestions?
In the end I feel that I just got a basic handle on Hallett after 80 minutes of seat time. I will definitely be returning next year to this track with Jessica, and perhaps Kaitlan. It has the proper facilities to accommodate both Jessica and Kaitlan and I want more time on this track.
If you are considering Hallett, you really should go the extra mile, or miles to experience it. It is now my favorite track!
Want to see more pictures and videos?
More videos over at Vimeo!
More of my photos, and photos from the Hallett Foto Shoppe
How about a video of our race group?