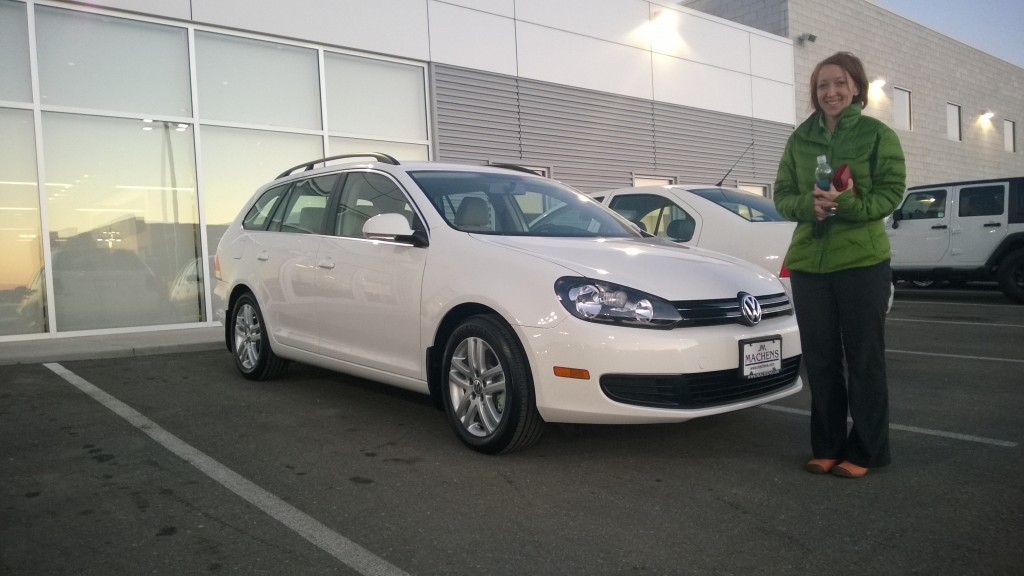 I am a little belated in writing this (aren't I always?), but we sold my car last week! And bought a new one! A 2014 VW Jetta Sportwagen TDI! It all happened really fast. Our neighbor caught us when we were home over lunch one day and asked if we'd ever thought about selling my Jetta (2002 VW Jetta GLS TDI). We've been thinking about replacing "Sidda" for about a year now, but since she's paid off and has run so well, we'd always just put it off every time it had come up. But the idea of selling her to someone we knew without the hassle of all the tire-kicking and negotiation was too good to pass up.
We'd been considering a few different cars, mostly used BMWs. But when we happened to glance at the inventory at our local VW dealership and saw that we could get a brand new TDI Sportwagen for less than we could get a used BMW, we decided to jump. It helped that we had a friend at the dealership. It made the buying experience so enjoyable.
So why the 2014 VW Jetta TDI Sportwagen?
The Short List:
30/42 MPG – Still a diesel with great fuel economy
140hp/236ft/lb – Surprisingly quick for a 2.0 diesel motor, much quicker than our 2002
6 speed! – Fun all around and having a manual lets you really control how efficient you want to drive
Wagon – Lots of space for camping gear, or just the occasional big stuff you may need to haul around
VolksWagen – Our 2002 was a great car and never left us stranded. It was also still very solid after 12 years old, no rattles and not falling apart. We are big fans of German built cars.
ZERO miles new – Warranty, knowing how the car was treated, and just the smell of a new car makes you feel good about getting into a big commitment like a new vehicle.
In the end we felt a lot better choosing a brand new VolksWagen rather than chance it with a pre-owned BMW. A broken BMW can accumulate huge repair bills very quickly, so this will be one less thing to worry about and allow us to focus on the important things in life.
I feel crazy for buying a car I can't even drive yet — but I'm determined to learn pretty quickly. I've never owned anything so nice before, and I don't feel the least big boring for buying a newer version of the car I loved so much.
On to some pictures!